We are pleased to present this information on this COCO Bidet, as shown and described by the manufacturer. Because we have not tested this product, we are unable to endorse it or provide you with any additional information.
---
You use the bathroom 365 days a year, so you owe it to yourself to experience a whole new level of comfort and cleanliness. The COCO 6035R bidet boasts some of the best technology available at an affordable price.
Your comfort and hygiene are our primary concerns. The COCO 6035R bidet is made of a patented antibacterial composite to help prevent bacteria. It is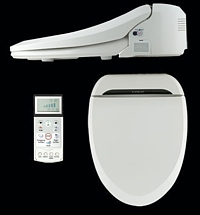 easy to install and maintain and fits most existing toilets.
Elegantly designed, the COCO 6035R bidet improves the appearance of any bathroom. It comes with a full one-year warranty and a three-year limited warranty.
Bio Life Technologies is the world-renowned bidet company and manufacturer of the COCO bidet. Our mission is to provide our customers with the very best in technology while at the same time focusing on aesthetics.
For more information about this and other fine bathroom fixtures, we invite you to visit www.biolifetechnologies.com. (12/04/07)
CLICK LINK BELOW TO PURCHASE FROM AMAZON
Coco Bidet 6035R Toilet Seat with Remote Control
Copyright © 2007 LAF/C.R.S., Inc. All rights reserved.
Looking for home improvement Q&As? Click here!
[ Back to Top ]
Related Search Terms: Product Previews, bathroom fixtures, Coco 6035R bidet, Bio Life Technologies, bidet company, personal hygiene