We are pleased to present this information on Moen's Vitalize Showerhead, as shown and described by the manufacturer. Because we have not tested this product, we are unable to endorse it or provide you with any additional information.
---
The Moen Vitalize™ rainshower offers self-pressurized spray of Invigorain™ rainshowers technology that channels water through this single-function showerhead for a full-coverage, rain-drenching shower experience.
Patented Invigorain™ self-pressurized technology ensures the water sprays evenly throughout the entire showerhead. Its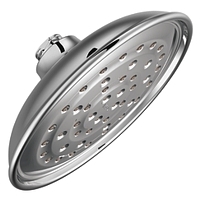 spiral 7-inch spray face diameter provides full-body coverage
Because Vitalize™ fits all standard shower arms, it is easy to install. It is available in Chrome finish and carries a limited lifetime warranty.
For more information, visit www.moen.com/index.cfm and type 21007 in their search box. (12/06/07 & 07/22/11)
CLICK LINK BELOW TO PURCHASE FROM AMAZON
Moen Vitalize 21007 Self-Pressurized Rainshower Showerhead
Copyright © 2007 & 2011 LAF/C.R.S., Inc. All rights reserved.
Looking for home improvement Q&As? Click here!
[ Back to Top ]
Related Search Terms: Product Previews, Moen showerhead, Moden model 21007, Moen Vitalize Self-Pressurized Rainshower Showerhead