We are pleased to present this information on this SOLO 637 chain saw, as shown and described by the manufacturer. Because we have not tested this product, we are unable to endorse it or provide you with any additional information.
---
The SOLO 637 chain saw model designed specifically for tree surgery is driven by a powerful 40.2cc gas-fired two-cycle engine, weighs eight pounds (3.7kg), and boasts the industry's best performance-to-weight ratio (1,85kg/kW).
The top-handle chain saw offers optimal performance and handling and is easy to operate even in tight spaces and difficult working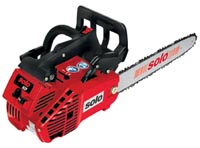 conditions. It has a 14" (35cm) long guidebar and is fitted with a reliable half-throttle mechanism and an effective anti-vibration system.
This professional precision cutting tool also features Nikasil® coated cylinder surfaces and the SOLO Ekomatic no oil feed when idling system. The chain saw is manufactured by German chain saw pioneer SOLO Kleinmotoren GmbH and is being introduced by United States subsidiary SOLO, Inc.
For more information, please visit www.solousa.com. (06/03/08 & 09/02/11)
CLICK LINK BELOW TO PURCHASE FROM AMAZON
All SOLO Chain Saws
Copyright © 2008 & 2011 LAF/C.R.S., Inc. All rights reserved.
Looking for home improvement Q&As? Click here!
[ Back to Top ]
Related Search Terms: Product Previews, SOLO 637-14BC chain saw, SOLO top-handle compact chain saw, SOLO 14-inch chain saw