We are pleased to present information on this GE Profile Double Oven Freestanding Range, as shown and described by the manufacturer. Because we have not tested this product, we are unable to endorse it or provide you with any additional information.
---
The GE Profile™ Double Oven Freestanding Range offers the largest freestanding total oven capacity in the industry to cook two different dishes—at two different temperatures—at the same time.
Available in two 30" configurations—each with a spacious 6.6 total cu. ft. of cooking space—both ranges feature the 2.2 cu. ft.-capacity upper oven that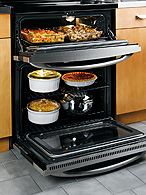 is ideal for all types of baking, broiling and roasting.
The spacious lower oven (4.4 cu. ft.) features a Slow Cook mode that home chefs will appreciate. Whether braising pot roast or beef stew or creating classic braised fare like coq au vin for holiday entertaining, the Slow Cook feature offers four settings to gently roast tender meats. No separate slow-cooker is required with this oven.
For additional information about this and other kitchen appliances, visit www.geappliances.com (12/04/07 & 09/10/11).
CLICK LINK BELOW TO PURCHASE FROM AMAZON
All GE Profile Double Oven Freestanding Ranges
Copyright © 2007 & 2011 LAF/C.R.S., Inc. All rights reserved.
Looking for home improvement Q&As? Click here!
[ Back to Top ]
Related Search Terms: Product Previews, GE Profile double oven range, GE freestanding range, GE electric range, GE 30-inch ranges