We are pleased to present this information on Bosch BruteTough cordless hammer drills, as shown and described by the manufacturer. Because we have not tested this product, we are unable to endorse it or provide you with any additional information.
---
The Bosch BruteTough™ family of cordless hammer drills and drill drivers became a toolbox staple following its launch in 2002. Professional craftsmen grew to depend on the tools' industry-leading performance, game-changing durability, and outstanding battery quality.
In 2008, Bosch Power Tools and Accessories debuts of four new products bearing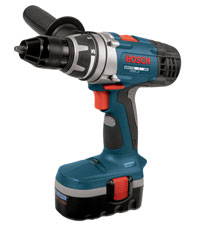 the BruteTough name.
Built around Bosch's jobsite proven BlueCore™ Ni-Cad battery platform, the second-generation BruteTough products illustrate the company's continuing commitment to producing top-notch products.
"BruteTough isn't just a brand name for Bosch," says product manager Andrew Cho. "To earn the BruteTough label, a cordless tool has to be tougher, faster, longer lasting. This is a distinction we take very seriously."
The complete second-generation BruteTough lineup includes:
15618 18V Hammer Drill/Driver
15614 14.4V Hammer Drill/Driver
35618 18V Drill/Driver
35614 14.4V Drill/Driver
All BruteTough tools come with two batteries, a 30-minute charger, 360-degree adjustable side handle, and durable carrying case. Additional included accessory items vary by model.
For more information, please visit www.boschtools.com. (06/25/08 & 09/18/11)
CLICK LINK BELOW TO PURCHASE FROM AMAZON
All Bosch BruteTough Cordless Hammer and Drill Drivers
Copyright © 2008 & 2011 LAF/C.R.S., Inc. All rights reserved.
Looking for home improvement Q&As? Click here!
[ Back to Top ]
Related Search Terms: Product Previews, Bosch Brute Tough, hammer drills, driver drills, cordless drills, cordless drill batteries