We are pleased to present this information on WORX SD semi-automatic cordless screwdriver as shown and described by the manufacturer. Because we have not tested this product, we are unable to endorse it or provide you with any additional information.
---
The WORX® SD Semi-Automatic Driver is a concept similar in design to that of the Craftsman Redi-Drill, but this cordless screwdriver is designed to replace the odd assortment of screwdrivers that clutter most kitchen drawers. It features a six-slot revolving chamber that rotates a variety of bits in and out as needed.
The WORX SD Driver's six-slotted, revolving cartridge holds six standard one-inch, hex-shanked bits.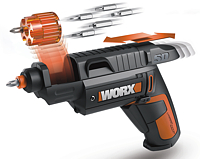 It works by sliding the back tool's top cover, then pushing it forward so the selected bit can move into the chuck. It's that simple!
Suppose you don't need that many hex or Torx bits, and you'd rather have more sizes of slotted bits at hand. No problem. One-inch, hex-shanked bits are widely available at home centers and hardware stores, so you can mix and match bits to customize the cartridges to meet your own needs.
The driver comes with two cartridges loaded with a total of 12 bits:
Phillips #0, #1, #2
Slotted #4
Hex #3, #4, #5
Square Recess #1, #2
Torx® T10 and T20
Screw-starting bit for drilling pilot holes
Powered by a built-in, 4-volt, lithium-ion battery, the manufacturer suggests that you can keep the driver in the kitchen drawer for up to 18 months without needing to recharge its battery. When the time comes, the plug-in charger will fully charge the driver in 5 hours.
The WORX SD Driver is constructed of GFN composite with a comfortable rubber grip on the handle. It features a two-finger trigger, an LED light to illuminate the work area, and a forward/reverse rotation button. The tool weighs just 1 pound, has a ¼-inch chuck, and has a maximum torque rating of 27 inch-pounds.
This tool allows you to quickly switch from slotted to Phillips to Torx and square recess bits in several sizes at will. No more digging in your toolbox for manual drivers, or in your pocket for the right bit. The WORX SD Semi-Automatic Driver (WX254L) has a price tag of $39.99.
For more information, please visit www.worx.com. (02/27/14)
CLICK LINK BELOW TO PURCHASE FROM AMAZON
WORX WX254L SD Semi-Automatic Power Cordless ScrewDriver
Copyright © 2014 LAF/C.R.S., Inc. All rights reserved.
Looking for home improvement Q&As? Click here!
[ Back to Top ]
Related Search Terms: Product Previews, WORX SD Semi-Automatic Cordless Driver, WX254L cordless drivers, cordless screwdrivers