We are pleased to present information on MiniRAE Lite Portable VOC Monitor, as shown and described by the manufacturer. Because we have not tested this product, we are unable to endorse it or provide you with any additional information.
---
RAE Systems Inc., a provider of rapidly deployable sensor networks that enable customers to identify safety and security threats in real time, recently introduced the MiniRAE Lite, the third in a series of third-generation photoionization detector (PID) based instruments.
Its extended range of 0 to 5,000 ppm makes it an ideal instrument for applications from industrial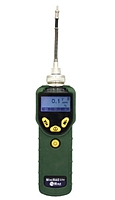 hygiene to leak and hazmat detection.
This instrument is intended for outdoor environmental and construction site use where hydrocarbon-based volatile organic compounds (VOCs) and chemicals pose a toxic threat. It features a measurement response time of under three seconds, a three-button interface for easy use with up to three layers of gloves, a large back-lit graphical display provides easy viewing in any light condition, and is waterproof for easy decontamination and use in humid conditions. It uses standard alkaline AA size batteries or optional rechargeable batteries.
For additional information about this product and other detection tools, visit www.raesystems.com (01/02/08 & 09/24/11).
CLICK LINK BELOW TO PURCHASE FROM AMAZON
All MiniRAE Lite Portable Monitors
Copyright © 2008 & 2011 LAF/C.R.S., Inc. All rights reserved.
Looking for home improvement Q&As? Click here!
[ Back to Top ]
Related Search Terms: Product Previews, MiniRAE Lite, Gas Monitors, RAE Systems, Portable VOC Monitors, Handheld Portable VOC Monitors