Review Summary
Guarddog
6000
Beltwatch or Clip-on Watch
Priced at $49.99
Reviewed by Leon A. Frechette
05/12/04 Updated 04/06/07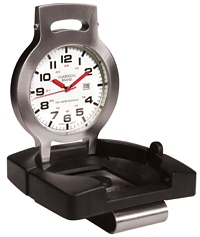 Guarddog - Beltwatch
For individuals who prefer not to wear a wristwatch, I have the perfect solution: the cleverly designed Beltwatch by Guarddog. Similar to a pocket watch in design and function, the Guarddog actually clips to your pants belt or pocket so it is readily accessible and easier to reach than a watch safely tucked into a pocket.
This watch was designed for people who work! Its oversize stainless steel clip (2.75" x 7/8") makes it stay put and is ideal for contractors who want to clip it over a tool belt or pouch. Also stainless steel, the watch case is very smooth and has no sharp edges. Sleek and attractive, this watch is built like a tank!
To view the watch face, flip out the watch using your thumb on the metal tab. When done, snap the watch back into its santoprene case up at the top. My favorite feature is that the back of the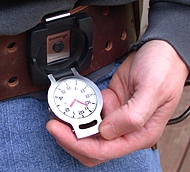 watch is actually the front so the crystal—which I usually damage while at work—is always protected.
The dial features 3-hand analog movement (i.e., it's not digital) with date, and its oversized design makes the face easy to read. Unfortunately, the watch wasn't designed for use in the dark, so don't expect any illumination from the red hands of this watch. Since the dial would never be exposed to light, the manufacturer's trade-off was a super high-contrast dial with colored hands. The visibility of this large-face design is better in both high-light and low-light situations. However, a lighted dial face would have been a nice feature, especially if the user wanted to view the dial in complete darkness.
The watch carries a one-year limited warranty and is water-resistant, which means that it will withstand rain, sweat, accidental splashing, and showering (an unlikely scenario since this is a clip-on watch) but not swimming.
The streamlined and stylish design of this product is worth every penny. While its design lends itself to contractor-types who prefer not to wear (and damage) a wristwatch, other users will appreciate the overall quality of this watch. If you—like me—tend to damage watch crystals, then the Beltwatch by Guarddog is the watch for you!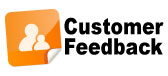 Copyright © 05/12/04 & 04/06/07 LAF/C.R.S., Inc. All rights reserved.
[ Back to Top ]
---