Tips to help you build a residential wheelchair ramp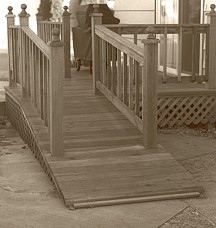 by Leon A. Frechette
Access ramps are primarily designed for wheelchairs and power scooter users, they can also be handy for individuals who use walkers or even mothers with strollers.
Constructing a wheelchair ramp to facilitate accessibility to a home is no easy task.
It takes a lot of planning to design and construct a ramp so it functions properly and safely and, at the same time, is an attractive addition to the home.
---
So, where should one begin?
A good starting point is to answer the following questions: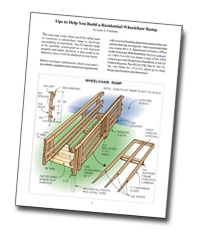 Is this a permanent or temporary wheelchair ramp?
Do you have the basic construction knowledge and experience to build this ramp?
Do you know the primary guidelines for a ramp as outlined in the American with Disabilities Act (ADA)?
Is there adequate room for the required slope's length, width, and landing?
Do you know the proper height placement for handrails and where they should be mounted?
Do you know the maximum slope requirement and the correct height for guardrails?
Do you know the required width for easy wheelchair maneuverability?
Can you modify a basic ramp plan to meet the specific circumstances of your home and the building codes in force in your area?
Answers to these questions and much more can be found in Tips to Help You Build a Residential Wheelchair Ramp. This informative 5-page article delivers clear and concise information along with pictures and easy-to-understand diagrams to help you design and construct a wheelchair ramp.
While the ADA set standards for the commercial market, the guidelines are hard to follow. This article simplifies those standards and offers measurement guidelines and a drawing showing construction elements. Helpful construction tips are also included.
This downloadable PDF article features three full-color illustrations, two black & white illustrations, and two black & white photos. This article is a must, especially as you begin the design phase of your ramp. Even if you decide not to construct the ramp yourself, this article will provide you with insights into the construction process, making it easier to discuss your specific needs with potential contractors.
Tips to Help You Build a Residential Wheelchair Ramp, written by Leon A. Frechette, a seasoned construction veteran, is an invaluable tool for the professional. Yes, there's a lot of free information on the web, but none presents the in-depth information as clearly and simply as this article. Still not convinced? Take a few minutes to read what our satisfied customers have to say—just click the Customer's Feedback button below. This article is definitely worth the investment.
---
| | |
| --- | --- |
| | To order your 5-page downloadable .pdf printable copy of Tips to Help You Build a Residential Wheelchair Ramp, click here or click the purchase button to the left! |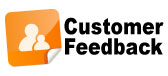 Copyright © 2004, 2005, & 2006 LAF/C.R.S., Inc. All rights reserved.
[ Back to Top ]
---