Have confidence in treated wood
by Leon A. Frechette
In late January 2002 an article appeared on the front page of USA TODAY titled "Deal will phase out popular lumber." The article referred to treated lumber—the same material widely used in the United States to build decks, fences, and playground equipment.
Wow—that was quite a headline! It was hard to know what to think since home foundations, raised beds, decks, walkways, gazebos, fences, and playground equipment were all made with products impregnated with Chromated Copper Arsenate (CCA).
However, the three principal manufacturers of CCA voluntarily made a transition. CCA has continued to be used to protect wood for many industrial applications (e.g., marine piling, foundation piling, saltwater bulkheads, highway products, and utility poles), but lumber in home centers for backyard use is now treated with one of the "new generation" preservatives.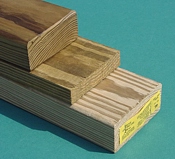 As a result, preserved lumber remains the primary building product for decks, being used for understructure if not also for decking and railing in about 80 percent of all decks. Its natural appearance, strength, long life, widespread availability, and economy make it popular among homeowners. Less recognized are the environmental features of treated wood: it uses a plentiful, rapidly replenished resource, its production requires less energy than artificial wood alternatives, and the preservative is made largely from recycled materials.
Presently the new-generation preservatives comprise two choices: copper azole (CA) and alkaline copper quaternary (ACQ). Photo 1 (from the Southern Forest Products Association) shows samples of treated material—top to bottom: ACQ, CA, and CCA.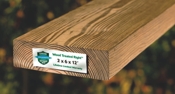 Copper azole is manufactured by Arch Treatment Technologies; the wood preserved with this chemical is called Wolmanized? Residential Outdoor? wood. The preservative is a combination of recycled copper and an organic fungicide (azole). The production, performance, and appearance of this wood are very similar to those of traditional CCA-treated wood. Its warranty is the same. Photo 2 (courtesy of Arch) is a 2x6 of Wolmanized Outdoor wood.
The other alternative chemical, ACQ, is impregnated into wood that is sold under various trade names such as Preserve, Preserve Plus, and Nature Wood. It, too, is a copper-based preservative with a co-biocide (quaternary) to protect against copper-tolerant fungi.
Wood treated with CA and ACQ is slightly more expensive than CCA-treated wood was—in the 10 to 30 percent range depending on local market factors.
In a February 2003 news release announcing the preservative transition, EPA said, "EPA has not concluded that CCA-treated wood poses unreasonable risks to the public for existing CCA-treated wood being used around or near their homes or from wood that remains available in stores. EPA does not believe there is any reason to remove or replace CCA-treated structures, including decks or playground equipment. EPA is not recommending that existing structures or surrounding soils be removed or replaced."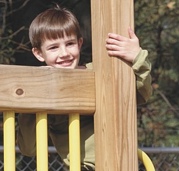 This is a complex issue, but one has to wonder if the public health fear factor was initiated here, i.e. the media rushed ahead of science to expose what they interpreted to be a health risk because one of the ingredients in CCA is arsenic, a known human carcinogen and a product that is acutely toxic. EPA continues to evaluate both the toxicity and the potential exposure to arsenic from CCA-treated wood.
If you were concerned about products containing CCA, the newer products should provide some peace of mind. They offer both an alternative and satisfaction that deck undercarriages, decks, fences, and playground equipment built with lumber treated with copper azole and alkaline copper quaternary will be protected from insects and Mother Nature—and individuals will be protected as well. Photo 3 is provided courtesy of Arch Treatment Technologies.
If you've got treated wood products in your yard right now, and have concerns about your safety and the safety of your family, consider the following guidelines to reduce your family's exposure to wood preservatives:
Thoroughly wash your hands after contact with any wood, especially prior to eating and drinking. If you or your children have walked barefoot on a deck or walkway built of treated products, take time to wash your feet.
Do not allow food to come into direct contact with any treated wood.
Consult your local home improvement store for information about available coating products and minimize your exposure by regularly coating exposed surfaces of CCA-treated wood, e.g., deck surfaces, railings, walkways, playsets. Some studies suggest that this can reduce the amount of CCA that leaches from treated wood. EPA is looking into this. If nothing else, coating with a water repellent will provide a defense against moisture and keep your wood looking better longer.
Currently the EPA does not recommend that consumers replace or remove any existing structures made with CCA-treated wood or any soil surrounding those structures. However, if you have concerns about any structures in your yard that are made of CCA-treated wood, consult your local home improvement store for information about available alternatives, including the use of untreated wood (e.g., cedar or redwood) or alternative decking material fastened to your existing deck undercarriage.
If you work with treated lumber, follow these precautions to reduce your exposure from inhaling or ingesting sawdust, to protect your eyes, and to prevent exposure to potentially toxic smoke and ash:
Saw and sand treated wood outdoors, and wear a dust mask, goggles, and gloves. This is also a good practice when sawing or sanding untreated wood.
Thoroughly clean up all sawdust, scraps, and other construction debris and dispose of it in the trash (i.e., municipal solid waste). Contact the appropriate state and local agencies for further guidance on the proper disposal of treated wood.
Do not compost or mulch sawdust or remnants from treated wood.
Do not burn treated wood.
After working with the wood, wash all exposed areas of your body, especially your hands, thoroughly with soap and water before eating, drinking, using the toilet, or using tobacco products.
Wash your work clothes separately from other household clothing before wearing them again.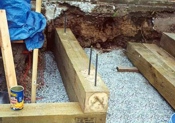 Many homeowners have gardening beds constructed of treated lumber, and this has also raised concerns since some scientific studies suggest that—over time—preservative ingredients leach from treated wood products into the soil. The amount and rate at which this occurs varies depending on factors such as local climate, acidity of rain and soil, age of the wood product, and how much preservative was applied.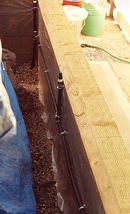 If your garden beds are constructed of treated lumber and you have concerns about the safety of the food grown in those beds, then remove and dispose of the soil in close proximity to the lumber. Then coat the interior surfaces of the wood with sealant, line the bed with plastic, or remove and replace the treated lumber with a non-treated wood or alternative product.
Photo 4 shows a barrier-free garden being constructed of 8" x 8" treated timbers. However, before placement of the timbers, a 12" deep bed of 3/4" crushed gravel was laid to allow water to drain away from the timbers. Before the sprinkler system was added to the front of the barrier-free garden, 4-mil plastic sheeting was installed to the inside perimeter as shown in Photo 5. For extra drainage, another 12" of gravel will be added up against the plastic sheeting.
Treated wood should not be used where routine contact with food or animal feed can occur. For example, do not use treated wood for cutting boards, countertops, beehives, or structures or containers for storing human food or animal feed.
This is a complex subject and conclusive test results are not yet in. To better understand the current situation and to help you reach your own conclusions, you may want to read the following:
To learn more on the current choices in treated wood, go to:
Nature Wood—www.osmose.com
Preserve—www.chemspec.com
Wolmanized Outdoor Wood—www.wolmanizedwood.com
Other useful sites include:
Southern Pine Council—www.southernpine.com.
Western Wood Preservers Institute—www.wwpinstitute.org.
Wood Preservative Science Council—
www.woodpreservativescience.org.
Copyright © 2003 & 2006 LAF/C.R.S., Inc. and CL/L.P.S. Photo-Graphics.
All rights reserved. Photos 4 & 5 are the property of LAF/C.R.S, Inc.
Looking for home improvement Q&As? Click here!
[ Back to Top ]
---