Decorating ideas for your home
by Kimberly A. Frechette
Could the rooms in your home use a face-lift? What about new paint, a different furniture arrangement, or fresh accessories?
With 25 years in the interior design business, I regularly address these issues with my clients. This article presents some of the ideas I use to help them. Many of these ideas are inexpensive and only require some time and attention. Included here are ideas to help small rooms appear larger and guidelines for selecting and purchasing furniture, accessories, and carpet.
I don't want to discourage you from working with a designer. My goal is to help you start the thought process so you can take your ideas to a decorator for professional advice or tackle your decorating project yourself. Most fine furniture stores offer free design services; ask for assistance if you feel the need. I hope the ideas presented here will give you the confidence to take on all or part of the project yourself.
Good luck with your decorating project, and let me know how your project turned out. I would particularly enjoy seeing some "before" and "after" pictures of your project. You can send them to the address at the end of this article.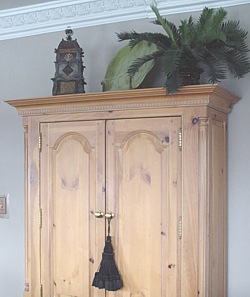 Strong green tones balance out the light pine cabinet. The large black tassel on the knob draws attention.
Getting Started:
Small changes often make a big difference. Because we pass through the rooms in our homes many times each day, we overlook a lot of things simply because they are always there. Try a fresh approach: walk into a room, close your eyes, and then open them and really look around. You might be surprised with what you see. Sometimes simply moving your sofa provides a starting point for a whole new look.
Begin by considering the room's size. If it's small, establish a focal point with one large piece of furniture. Work off that piece and its colors. "Less is more" is a good rule for a small room because it's easy to end up with a small cluttered room.
If you're remodeling a bedroom, turn the bed at an angle for an entirely new look. Bedrooms are easy to do in a theme because they are separate from the rest of the house.
Easy Pro Decorating Tips:
The newest trend in home styles is "Classic-Casual," essentially "not too formal, not too casual." Furniture that fits this trend has clean lines and not a lot of carving. Fabrics used for Classic-Casual furnishings should be a soft chenille.
To achieve the maximum illusion of height, paint the ceiling off-white or cream, the crown moldings white, and the walls tan or some other color. We painted the ceiling and walls in taupe, and the crown molding in cream for a dynamite combination. To really make the molding stand out, paint the small reveal on the bottom side of the molding where it contacts the wall the same color as the wall. It's easier to paint the two as one unit, but this little trick gives depth to the walls and adds extra character to the molding. The pine hutch, antique gold picture frame, wall light, and deep greenery all come together with the wall light's soft glow. Notice how warm this room feels!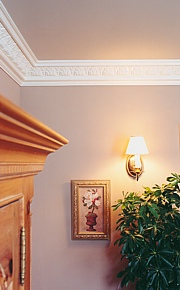 Paint—An inexpensive way to freshen up a room is to change wall colors. Start with one main wall and be bold. A popular color combination is a warm cream combined with white moldings and wood trims. Sage green and red are currently the most popular paint colors to accent a room.
Move beyond the walls and trim with your paint. If your room has iron railings, update them with paint. Either paint them to match your wall color or add wood to the top rail.
Wallpaper adds tremendous personality to a room. A fun splash is to wallpaper the inside of an entry closet!
Fabrics—Before choosing fabrics, consider your wardrobe because we tend to wear colors that we love. Look at how the colors in prints and plaids coordinate, contrast, and play off each other. If you find a color, or combination of colors, that you especially like, wear that particular outfit when you shop for fabrics or meet with your decorator. A good planning tip is to use "Memory Matching," which means to "pull" one color throughout your home. You can mix that color with other tones and patterns, but repeat that one color in every pattern.
A simple, inexpensive way to freshen up older dining room seating is to recover the chair seats. Purchase 1/2 yard per chair if the fabric is 54 inches wide and run the pattern toward the back of the chair. If you select a large pattern, you'll need additional fabric so you can position it the way you want it on each chair.
Floor Coverings—Selecting carpet can seem overwhelming with all the styles and colors available; I recommend that you purchase carpeting in a neutral color, such as tan or taupe. You won't tire of it and its basic color will make your home more appealing for resale.
Area rugs, even over wall-to-wall carpeting, add additional color to the floor. Be sure to use a good carpet pad to keep the area rug from "snaking." If you are unable to find an area rug the right size for your room, visit a carpet store and have them custom cut and bind a piece of carpeting the exact size you need. Have the corners squared or angled for a custom look.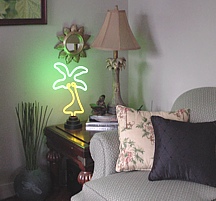 This "theme" room features a palm tree lamp, palm tree neon light, and palm tree and monkey toss pillow. The books elevate the lamp, creating both height and interest.
Sofas—For living room and family room furniture, begin by selecting a sofa so the carpeting, walls, other furniture, and accessories can all play off its fabric. Love seats take up a lot of space and yet only one person sits in them most of the time. Instead, select two separate chairs to coordinate with the sofa.
If you would like to give your patterned sofa a new look, or you have selected new patterned sofa fabric, dress it up with contrasting pillows. Place a coordinating throw over one side and the back of the sofa, not over an arm. Accessorize a solid-colored sofa with patterned pillows.
If leather is your choice, select pieces and colors that you will enjoy living with for a long time. Brown is always in style, especially in medium color tones such as warm tan.
Wood Tones—For many homeowners, the woods already present in the home provide a starting point. It's OK to mix woods; it gives rooms a warmer look. However, keep the tones similar, e.g., mix warm tones together, like cherry and pecan.
Think beyond wood as you consider a coffee table for your family room. A large ottoman with a heavy tray on it makes a versatile coffee table: you can remove the tray and put up your feet. A family heirloom trunk with a new glass top makes a great coffee table and provides storage.
Lighting—Evaluate your lamps; perhaps a face-lift is in order. An easy and inexpensive fix is to change the shades and perhaps add a tassel. Small lamps add a soft glow to your bathroom and kitchen.
Consider replacing the existing chandelier in your dining room. Local home centers feature lots of lighting options.
If your lamp appears too small for your table, place it on a stack of two or three books. It's a bonus if the books relate to the room's theme, e.g., if you're decorating a room with suns and moons, use astrology books. I like to use books similar in size and approximately 4 to 6 inches wider than the base of the lamp.
Accessories—When you budget for furniture, plan an additional 25 percent of the overall furniture cost for accessories.
Recycle pictures by changing the mat colors or even reframing them. Grouped pictures can add a focal point to a wall, and a long hallway is perfect for family photos. When you hang pictures, position them so the center is at your eye level (average height 5'x6"). First lay them out on the floor to determine a pleasing arrangement. Begin by hanging the center photo and work outward from there.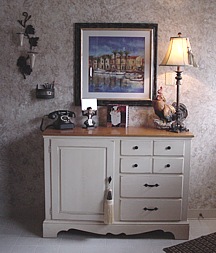 Black is the consistent color in this grouping. The picture and the rooster pull in the gold and reds. The background wall covering is not wallpaper but rather faux painting.
Candles add both a decorative touch and a warm glow. To permit a candle to burn longer, place it in a bowl of white sand. The candle is safer to burn, and there's no messy wax to remove from your furniture. After the candle melts and the wax is to cool to the touch, pick it up and shake off the sand.
A table runner on a dining room table offers a sleek look, especially in a small room. The average runner is 10 to 12 inches wide and 6 inches longer than your table (to allow a 3-inch overhang on each end). Purchase or sew several runners that coordinate with the room and change them regularly for a fresh look or to match the season. An attractive look in the dining room is to place a chair on each side of a china hutch or buffet and add 10- or 20-inch kidney pillows to the backs of the chairs.
Mirrors add depth and give the illusion of a window. The general rule for hanging a mirror over a fireplace is to purchase a mirror that is 4 to 6 inches shorter than the overall mantel length and position it 2 to 3 inches above the mantel.
If you're redoing a bookcase, stack a few books on their sides. Bookcases are not just for books: other accessories and picture frames add a fresh look. Group accessories in threes when you position them. Soften a straightforward pair of candlesticks with greenery or iron pieces.
A character piece adds a whimsical touch to any room. Select something that is unique, distinctive, and/or fun. Professional decorators usually recommend an accessory for a character piece. It can be an elephant lamp, a monkey mirror, or an end table that looks like a stack of books.
Update an old chest or a bombé chest (a chest with a bowed front) by hanging a small tassel and a key from the right top-drawer handle.
Place a timed can light under an artificial tree in your home. It will project soft leaf shapes onto the walls.
Remember that decorating your home is supposed to be fun. Seek input from your spouse and children. Browse through a few home improvement or decorating magazines and clip out pictures that you like. Don't get overwhelmed—redo one room at a time and have confidence in your own ideas. Good luck!
I'd like to hear from you about your decorating project and any ideas you might have. Forward your comments, "before" and "after" pictures of your project, what worked for you, and any pointers you might like to share to home improvement expert and author Leon A. Frechette by email.
Copyright © 2006 LAF/C.R.S., Inc. and Kimberly A. Frechette. All rights reserved.
Looking for home improvement Q&As? Click here!
[ Back to Top ]
---