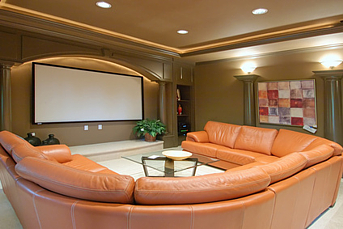 Home theaters are a place to connect with your favorite media in the way it was meant to be seen—on a huge screen with concert level audio. It is no wonder that specialty shops catering to our desire for them keep springing up every- where. True audio and video junkies know that you can't find the good stuff at Wal-Mart and if you want a first rate experience it is best to go to the pros that can illustrate the finer points of each system to you. Except, what if you want all the bells and whistles and the knowledge of how they work together? Well, read on because this is a 15-point step-by-step plan to getting your own home theater installed.
1. Selecting the perfect room can be tough. If you have a large house with spare rooms then taking one over with your home theater media center probably isn't going to impose on the way you are using the house too much. However, if you are making deals and trade-offs with your kids and spouse then it might be more complex. At any rate, a room with minimal windows (to eliminate glare) and away from bedrooms (where others might be sleeping or trying to utilize quiet time) is ideal.
2. Setting a budget can be difficult but it is crucial that you do this early on, as once you get into a retail store or catalog the costs can quickly balloon before you have even met the basic criteria to get started. Every home theater has to have a great picture and sound quality that will make your neighbors think you're doing seismic experiments. Remember though, you can always upgrade units and features later as you can allot more money to the room. So spend the amount of money that will create an awesome experience but not make you a pauper.
3. Designing the setup means deciding how to layout the equipment and seating. Consider traffic patterns of the people coming and going for bathroom breaks and snacks because those are the regular disruptions that watchers will have to accommodate. Of course, if you have windows in your room it is vital to take screen glare from undesirable stray beams of natural light that might obscure the image into consideration as well.
While you probably do not need a full-fledged acoustic engineer to come in and take measurements, the fact is some general arrangements of your speaker system will sound better in most spaces. That does not mean your room is one of them. Play around with the exact placement and system settings once you have the room intact.
4. How do you decide between a big screen TV or a projector? Well, it could be a matter of space or budget. There are excellent projectors that will fill your entire wall with imagery while on the other hand 3D TV's and 4K sets are just around the corner. There are two factors: eyes & wallet. Find something that fits your rubric.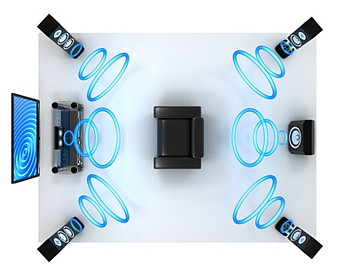 5. Speakers that stand-alone can have their locations adjusted to accommodate the seating arrangement and dimensions of the room you have dedicated as your new home theater. Installed speakers are set in place but out of the way and keep the room looking uncluttered. They will require installation and cable runs to feed the signal and power.
6. Readying the room can lead to a variety of paths. Are you stripping this room down to the studs? Or is your installation purely cosmetic? If the walls are going to remain intact then a nice cleaning after the room is empty will do. On the other hand if your design involves canned lighting and audio then running cables is necessary as is busting some walls. If you feel like these functions are out of your abilities there are professionals that specialize in home theater installations that can bring a vision to life for you.
7. The build out phase might include some demolition, if you are customizing the setup to the room. If you have some hammers around doing this step yourself is a great way to save a few dollars, plus pound out some frustration. Getting involved with the process will help you to understand how the room works, should anything go wrong in the future.
8. Running long cable runs inside the walls will eliminate them from site and also the risk of tripping or pets getting curious. A projector will need to be mounted to the ceiling with a special bracket system. Of all the tasks that might be required in your room it is likely that mounting and adjusting the projector will be the one that requires some manuals. It is not to say that any of the work involved is difficult or impossible but projectors require cutting holes and running cables.
9. Once you have any construction that was required completed it is time to begin putting things together. Gather your components together and get ready for assembly. At the least your setup should include a screen, content receiver of some kind (cable, dish, streaming service), perhaps an optical drive such as a DVD or Blu-Ray player, an amplifier and speakers. If you are a sports buff and looking to watch as much Sunday NFL as possible take a look at DirecTV which offers Sunday ticket. Using www.SaveonTVDirect.com you can also get HBO free for three months when signing up.
10. Now connect the necessary wires of each component to the others. Be sure that the power is off to the system so that you do not accidently cause any damage by peaking out the volume on your amplifier or any other issues with the components. You may even consider getting a power conditioner to additionally protect the electronics from surges of electricity.
11. Put your components into their place on the entertainment center. Many have areas or sections built into them for each device. Flat screen televisions can be mounted to the wall with a bracket system as well.
12. Test everything to make sure it is working properly.
13. Place the seating to maximize the room's feng shui.
14. Invite over your friends for movie night.
15. And finally—make some popcorn or other snacks for everyone to enjoy!
Copyright © 2013 LAF/C.R.S., Inc. All rights reserved. The previous article, in whole
or in part, was provided by a guest writer and is in credit to SaveOn TVDirect.com.
Views expressed may or may not be the direct views of LAF/C.R.S., Inc.
Looking for home improvement Q&As? Click here!
[ Back to Top ]
Related Search Terms: home theater installation, audio levels, video, TV, projector, 3D, DVD, Blu-Ray player, amplifier, speakers, cable, dish