Finish your drywall with confidence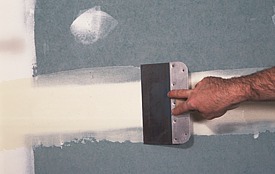 by Leon A. Frechette
You've got the drywall (wallboard) hung—so now what?
The next steps are to tape the joints, spot the fasteners, and prepare the walls to receive their final finish. Taping and texturing can be a messy project which many homeowners prefer to turn over to a taping crew.
I must confess—taping is not my favorite job. And I can tell you from my experience as an experienced former remodeling contractor, that I've hired a few tapers in my time and I have also taped a few projects as well.
Being around tapers and doing it as well over the years, both in the commercial and residential markets, I have learned a few things on the subject of drywall taping.
There are lots of books on the market that cover the subject—but who wants to read a book?
To help you with your decision-making process, I have put together an informative 10-page article titled Finish Your Drywall With Confidence. If you follow my basic step-by-step instructions and the professional tips provided in this article, you can achieve a quality wallboard finish.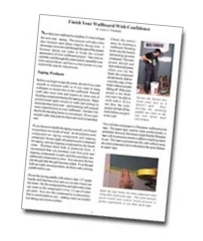 While tapers may go a hundred miles an hour, the real secret to success is to take your time and work at a pace that's comfortable for you.
Finish Your Drywall With Confidence covers such topics as:
Taping Products
Tools and Materials
Applying Compound
Smooth Walls
Textured Ceilings and Walls
Preparing for Wallpaper
Paint
More importantly, the 26 full-color pictures illustrate the materials, tools, tips, and hands-on step-by-step instructions from start to finish. You'll be able to see the entire process through the photos before you even start the project.
Learn how to finish your new walls and ceilings like a pro by reading Finish Your Drywall With Confidence. This article is easy to read, follow, and understand, and delivers a wealth of clear and concise information. If you're facing a drywall project, this article is definitely worth the investment.
---
| | |
| --- | --- |
| | To order your 10-page downloadable .pdf printable copy of Finish Your Drywall With Confidence, click here or click the purchase button to the left! |
Copyright © 2003, 2006, & 2007 LAF/C.R.S., Inc. and CL/L.P.S. Photo-Graphics. All rights reserved.
[ Back to Top ]
---