Achieve a professional drywall installation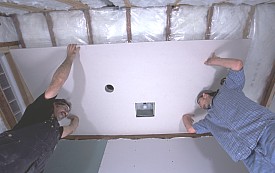 by Leon A. Frechette
Drywall (wallboard) is the transitional stage of any building or remodeling job during which the project walls transform from a skeleton to a completely covered surface.
It is important to have a clear vision of how you want your walls to look once they are finished since it will determine the products and procedures you will use. Therefore, proper framing plays a key role on how smooth the surface will be once the drywall has been applied.
After all the miscellaneous framing, electric, plumbing, insulation, and pre-hung doors are in place, you have reached a stage where you have to decide whether you want to hang the drywall yourself or bring in the pros.
Hanging drywall is not hard to do—it's just a time-consuming project that requires an extra pair of hands or two.
There are lots of books on the market that cover the subject—but who wants to read a book?
To help you with your decision-making process, I created an informative 8-page article titled Achieve A Professional Drywall Installation.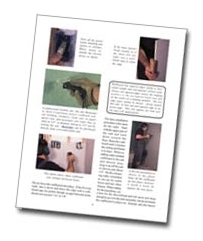 Here you'll learn in one sitting the ins and outs of installing wallboard like the pros.
As an experienced former remodeling contractor, I've simplified the task so this article makes the subject easy to understand and the directions easy to follow. This article delivers a wealth of clear and concise information about a subject which can sometimes be confusing.
The article covers such topics such as:
Preventive Measures
Nails or Screws?
Nailing (Fastening) Schedule
Drywall Installation
Achieve A Professional Drywall Installation also outlines the proper tools needed to successfully hang drywall, other pro tips, and hands-on procedures through the featured 29 full-color pictures. This document will walk you through the necessary steps right up to the taping stage to help you achieve a professional quality job. The taping process is not part of this article, however, we do offer an article titled Finish Your Drywall With Confidence. Both articles are definitely worth the investment.
---
| | |
| --- | --- |
| | To order your 8-page downloadable .pdf printable copy of Achieve A Professional Drywall Installation, click here or click the purchase button to the left! |
Copyright © 2003, 2006, & 2007 LAF/C.R.S., Inc. and CL/L.P.S. Photo-Graphics. All rights reserved.
[ Back to Top ]
---