Mantis tiller celebrates 25 years in the garden
by Leon A. Frechette
I remember growing up watching my mother cultivate her garden with a huge tiller and thinking how I wouldn't want to do it by hand because of the size of the garden. Her garden needed a big tiller. However, the tiller was too large for my grandmother's garden. Had I known then what I know now about the Mantis Tiller I saw advertised in magazines, I would have convinced her to purchase one. I have one and I love it!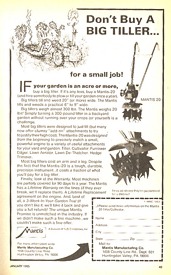 The Mantis Tiller/Cultivator was introduced 25 years ago to American gardeners. When you first pick up the unit, its weight surprises you—it only weighs 20 pounds. My first impression of the tool was that it looked like a toy, but looks and weight can deceive.
The Mantis Tiller/Cultivator is easily carried in one hand to move it from garage to garden. After you pull the cord to start the gas engine, the tiller's patented tines chew up soil with amazing ease. This is one piece of power equipment that actually delivers on its promises. It really makes gardening easier by taking the backbreaking strain out of tilling garden soil.
When the Mantis Tiller was first offered for sale in 1980, no one could have predicted how popular the world's first mini-tiller would become. Initially, the Mantis Tiller was largely shunned by men (who apparently did not want to be seen operating a diminutive "20-pound wonder"). However, women and seniors wholeheartedly embraced the little tiller and made it a bestselling sensation. They loved the little red tiller because it was simple and easy to use—and it did exactly what the product ads said it would do: take much of the hard work out of America's favorite leisure activity.
Today, men and women alike happily till their gardens with Mantis Tillers. In fact, it's hard to find a gardener who will say anything disparaging about a Mantis Tiller.
"We receive hundreds of unsolicited testimonial letters and emails every year," said Bob Bell, President of the Mantis Division of Schiller-Pfeiffer, which manufactures the Mantis Tiller. "Many gardeners become quite fond of their Mantis Tillers."
Bell especially loves the letters from customers who at first did not believe the claims made in the company's ads. Kenneth Porter of Copperas Cove, Texas, was one of those skeptics. Porter admits that the only reason he bought a Mantis Tiller was because of the one-year "no questions asked" return policy.
"When I first got this little thing (the Mantis Tiller), I thought to myself, 'What a waste of money!'" wrote Porter. "But when I started tilling, I was so amazed.... My son even wanted to use it. We want to tell you, we love this little jewel—it's great and I would tell anyone that it is well worth the money! Especially when you can get the kids to do the work!"
And then there are the fanatics. Rhonda Schmidt of Sheboygan, Wisconsin, freely admits to being in love with her Mantis Tiller. "I love my Mantis Tiller, and I will never give it up," says Schmidt. "I tilled my garden all by myself this year and it looks great!"
The Little Tiller That Does It All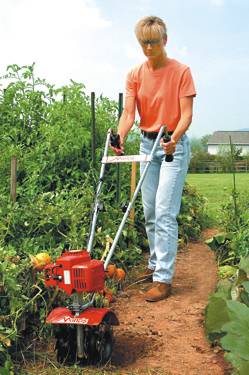 In an age of products that are imported from overseas, the powerful little Mantis Tiller is a made-in-America success story. The Mantis Tiller has proven itself to be durable, efficient, and remarkably versatile.
After 25 years and more than one million units sold, the Mantis Tiller is still assembled in a small factory in suburban Philadelphia. In spite of its many imitators—and there are quite a few mini tillers offered by other manufacturers—the Mantis Tiller is still the best-selling tiller in the world.
According to Bell, it's the patented "serpentine" (curved) tines that set the Mantis Tiller apart from other tillers, giving it the ability to cut through sod, tough soil, and even vegetation with ease. Other small tillers use a scaled-down version of the "bolo" bent tines found on big, heavy tillers, a design that is significantly less effective on a lightweight machine.
The Mantis Tiller's high-quality craftsmanship and powerful commercial-grade engine consistently get rave reviews. Gardeners are pleased with the handy way the Mantis Tiller tills garden plots and effortlessly weeds around trees and landscaping.
Like the proverbial Swiss Army knife, the mighty Mantis Tiller can effectively perform a wide variety of tasks. The tiller tines can easily be removed and many optional attachments can be quickly installed. These optional attachments convert the Mantis Tiller into a border edger, furrower, plow, lawn aerator, lawn dethatcher, crevice cleaner—and even a hedge trimmer. Thus, one Mantis Tiller and its attachments can do the work of eight different power tools.
Over the years, the Mantis Tiller has received many impressive official awards, including a Consumers Digest "Best Buy" award and a "Member Tested and Recommended" Seal of Approval from the National Home Gardening Club. The Mantis Tiller was also honored as the most-often praised garden power tool in the Organic Gardening Buyer's Guide. The lightweight Mantis Tiller/Cultivator does a great job of getting garden soil ready for planting—and it can be used for dozens of other jobs throughout the year.
Back in the 1990s, after the Mantis Tiller had thoroughly conquered North America, the little tiller was test marketed in Europe. The result? European gardeners embraced the little tiller in much the same way Americans had. As the Mantis Tiller celebrates its 25th anniversary, happy tiller owners in every state in the USA, every province in Canada, throughout Europe, and around the world in countries such as South Africa, Israel, and China use their Mantis Tillers to cultivate soil, weed gardens, dig furrows, aerate and dethatch lawns, edge borders, dig holes for planting trees and shrubs, and even to trim hedges, all with a little red tiller that many people laughed at when it was first introduced.
"Pound for pound, the Mantis Tiller/Cultivator is best tiller on the market," said Bell. "I believe that anyone who tries one of our tillers is going to be sold on it for life." It's safe to say that no one is laughing at the little tiller now.
Now that I have used my tiller over the last 4 years, I wouldn't use anything else. I always wondered how the Mantis name came about and while researching this piece, I leaned that the tiller handles resemble the shape of a praying mantis's arms, and the praying mantis is a beneficial insect in the garden.
If you are looking for a gardening tool that can handle all the yard and garden jobs on this short list, consider the Mantis Tiller and its optional attachments for your next project.
Break ground for new garden plots
Cultivate and weed around plants and between rows in existing gardens
Dig holes to plant new trees or shrubs
Dethatch and aerate lawns
Plant spring-flowering bulbs easier and faster
Dig trenches for irrigation pipe
Edge lawns and gardens
Till soil in raised beds and other small-space gardens
Dig up the soil for a backyard pond
Turn and mix debris in compost piles
Trim hedges
Plow furrows for planting potatoes, onions, etc.
Mix compost and amendments into garden soil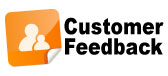 Copyright © 2005 LAF/C.R.S., Inc. All rights reserved. Information used in this
article, in whole or in part, was supplied by Schultz Communications a PR firm for Mantis.
Looking for home improvement Q&As? Click here!
[ Back to Top ]
---