We are pleased to present this book THE ONLY 127 THINGS YOU NEED, as shown and provided by the publisher and author that may be of help to you around your home and garden. Because we have not read this book, we are unable to endorse it or provide you with any additional information.
---
Come spring we all want to overhaul our homes and lives with much-needed spring cleaning.
To help "spring clean" every corner of your life, Tarcher/Penguin has published a new take on the subject: THE ONLY 127 THINGS YOU NEED: A Guide to Life's Essentials—According to the Experts by Donna Wilkinson.
This book features advice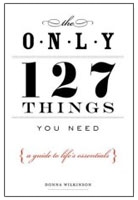 from leading experts in the mind, body and spirit fields. Together, they tell us how to identify the absolute essential "items" for living a good life and how to discard the clutter.
THE ONLY 127 THINGS YOU NEED is full of advice on how to simplify all areas of life: nutrition, health and wellness, sleep, clothing, household essentials, home safety, exercise, mental health, meditation, and more. Included in the more than fifty experts are Dr. Andrew Weil, Martha Beck, Dr. Christiane Northrup, Glenda Bailey, Nicole Miller, Ina Garten, Sara Moulton, Dr. Gail Saltz, Rabbi Harold Kushner, Thomas Moore, Dr. Larry Dossey, and Elizabeth Gilbert.
Consider adding this book to your library! (04/29/08)



CLICK LINK BELOW TO PURCHASE FROM AMAZON
The Only 127 Things You Need: A Guide To Life's Essentials
Copyright © 2008 LAF/C.R.S., Inc. All rights reserved.
Looking for home improvement Q&As? Click here!
[ Back to Top ]
Related Search Terms: Product Previews, The Only 127 Things You Need: A Guide To Life's Essentials, Donna Wilkinson, nutrition