We are pleased to present this information on LEAD-OUT, as shown and described by the manufacturer. Because we have not tested this product, we are unable to endorse it or provide you with any additional information.
---
Removing Lead Paint can be Easier and Safer than you think!
Remove and remediate lead paint in one step with LEAD-OUT Paint Stripper, which is a cost-effective, permanent solution to hazardous lead paint abatement.
LEAD-OUT renders lead and other heavy metals non-hazardous on contact, and it is a non-toxic,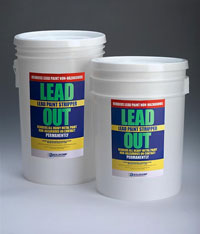 non-caustic, environmentally-friendly, high performance paint remover.
This specialized stripper will cover up to 120 sq. ft./gal., which is more than most specialized paint strippers, and it will remove multiple layers of paint in one application.
LEAD-OUT will strip virtually any paint off any surface. It does not perform well on industrial epoxies and may tarnish certain metals (aluminum, brass, copper, and mild steel).
For more information, please visit www.LeadOutPaintStripper.com. (05/09/08)
Copyright © 2008 LAF/C.R.S., Inc. All rights reserved.
Looking for home improvement Q&As? Click here!
[ Back to Top ]
Related Search Terms: Product Previews, Lead-Out paint stripper, hazardous lead paint abatement, specialized paint stripper