We are pleased to present this information on Polyfoam Products, Inc., as shown and described by the company. Because we have not tested this product, we are unable to endorse it or provide you with any additional information.
---
Polyfoam Products, Inc., a manufacturer of polyurethane adhesives, recently became a member of the United States Green Building Council (USGBC), a nonprofit organization committed to the advancement of sustainable building practices.
As a member of USGBC, Polyfoam will have a significant role in the advancement of a clean, healthy and sustainable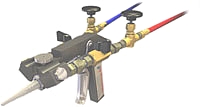 environment in its production of polyurethane foam products.
Polyfoam's commitment to the environment is evident in its patented Ecoset® Tile Roofing System. Specifically designed to meet the energy guidelines in California's Title 24, the Ecoset® system provides enhanced energy savings by reducing heat flow through roof decks by up to 80%, and minimizing nighttime heat loss by nearly 70%. Ecoset® features an R-value that is more than three times that of traditional mechanically attached tile roof systems.
Featuring a total system warranty, Ecoset® provides an increased service life and reduced life-cycle costs, offering enhanced strength and durability for any steep-slope roofing application.
For more information, please visit www.polyfoam.cc. (06/05/08)
Copyright © 2008 LAF/C.R.S., Inc. All rights reserved.
Looking for home improvement Q&As? Click here!
[ Back to Top ]
Related Search Terms: Product Previews, Polyfoam Products, Ecoset Tile Roofing System, tile roof systems, United States Green Building