We are pleased to present this information on EZ-HANG™ door installation system, as shown and described by the manufacturer. Because we have not tested this product, we are unable to endorse it or provide you with any additional information.
---
Tackling tough home improvement projects just got easier with new EZHangDoor.com.
Innovative Construction Enterprises, LLC, announces their new and improved website, EZHangDoor.com, to help homeowners learn the easiest way to install a door.
It's a great way to get professional results on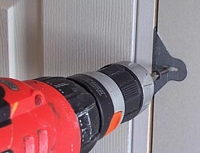 door installations, including French doors, double doors, and bedroom doors.
Randy Gordon developed EZ-HANG™ Door Installation System to be the easiest and most cost-effective way to install a door. This new system allows one person to easily hang a door in less time than using wood shims. Homeowners, builders, and even rookie DIYers can learn how to use EZ-HANG with informational videos and helpful tips from Randy.
Contractors and builders, constantly looking for ways to increase productivity and quality, will save time on each door installation using EZ-HANG. "The EZ-Hang brackets have more than tripled door installation production," said Brad VanBergen-President, Winberg Construction.
The videos on their site show how easy it is to use EZ-HANG: simply attach the door brackets to the back of the doorframe, slide the door into the opening, then plumb, level, and square it. There's no need to remove the door from the jamb or insert wood shims from both sides of the door.
For more information, please visit www.ezhangdoor.com. (07/03/09)
Copyright © 2009 LAF/C.R.S., Inc. All rights reserved.
Looking for home improvement Q&As? Click here!
[ Back to Top ]
Related Search Terms: Product Previews, EZ Hang Door installation system, Innovative Construction Enterprises, EZ-HANG brackets