We are pleased to present this information on JELD-WEN® IWP® Custom Fiberglass doors, as shown and described by the manufacturer. Because we have not tested this product, we are unable to endorse it or provide you with any additional information.
---
Many homeowners have discovered they can achieve fabulous looks by going faux. Builders and homeowners alike are turning to synthetic products that will hold up to the wear that time and environmental factors can cause.
While many homeowners desire the classic appeal of a wood entry door, they don't want the upkeep.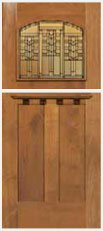 JELD-WEN® IWP® Custom Fiberglass doors look almost exactly like wood and are built to age gracefully. The door shown on the right is a custom fiberglass exterior Dutch door.
"Our fiberglass exterior doors are easier to maintain in any climate and act as better insulators than their wooden counterparts," said Elizabeth Souders, JELD-WEN product marketing manager. "They are also more resistant to dents, warp and decay and have less chance of cracking over time."
JELD-WEN® Wood Composite garage doors combine the strength of steel with the resiliency of wood. The materials replicate wood without the cost, maintenance, and potential problems such as rusting and denting.
While many homeowners and builders feel that nothing can improve upon traditional materials, more and more are discovering high-quality faux gives them a good run for their money.
For more information, please visit www.jeld-wen.com. (05/09/08)
Copyright © 2008 LAF/C.R.S., Inc. All rights reserved.
Looking for home improvement Q&As? Click here!
[ Back to Top ]
Related Search Terms: Product Previews, JELD-WEN IWP Custom Fiberglass exterior Dutch door, wood composite doors, exterior doors