We are pleased to present this information on Simpson WaterBarrier™ Technology used in their French door construction, as shown and described by the manufacturer. Because we have not tested this product, we are unable to endorse it or provide you with any additional information.
---
Simpson WaterBarrier technology enhances eurability and moisture resistance.
Builders and homeowners wanting the look of wood inside and protection against Mother Nature on the outside have a new choice in French doors.
Simpson Door Company introduces WaterBarrier Technology, upgrades designed to allow wood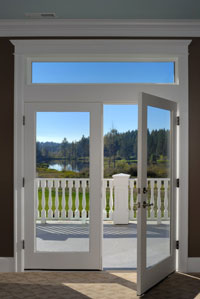 doors to perform in harsh environments.
WaterBarrier technology offers durability and resistance to moisture absorption. It combines a one-piece Medium Density Overlay (MDO) and PVC sticking on the outside of the door.
These materials, combined with a five-year warranty, give homeowners and builders peace of mind when selecting exterior French doors.
The MDO features a thermoset acrylic latex primer topcoat, a superior base for water or alkyd-based paints. The result is an exceptional paint application on the outside and a nearly limitless choice of wood species on the inside, allowing homeowners to match interior living spaces.
UltraBlock® technology, a composite material that is finger-jointed into the bottom of a door's stiles, eliminates bottom rail and lower stile rot, minimizes stile and rail separation, and improves warp resistance in bottom rail and lower stile components.
To learn more about Simpson's new product developments, visit simpsondoor.com. (04/30/08)
Copyright ©2008 LAF/C.R.S., Inc. All rights reserved.
Looking for home improvement Q&As? Click here!
[ Back to Top ]
Related Search Terms: Product Previews, Simpson French doors, Simpson WaterBarrier Technology, Simpson Door Company