We are pleased to present this information on FastFloor, as shown and described by the manufacturer. Because we have not tested this product, we are unable to endorse it or provide you with any additional information.
---
Rhino Industrial™ introduces FastFloor™, its new two-component, hybrid, aliphatic polyurea coating solution featuring a rapid-cure capability allowing a return-to-service time of one day.
FastFloor can be applied with a hand-roller, brush, and is available in two formulations: FastFloor HB (High Build) for industrial floors such as warehouses, airplane hangars and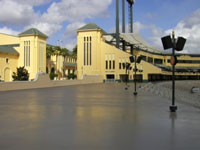 laboratories; and FastFloor DF (Decorative Floors) utilizing paint chips, colored quartz, or other decorative flakes to create a beautiful yet durable floor.
FastFloor is a 1:1 mix ratio system with sufficient pot life to be rolled, brushed, or sprayed with Rhino Linings® application equipment.
Some of the benefits of FastFloor include:
Fast cure allowing rapid turnaround time
Robust application window with ability to apply at low temperatures and high humidity.
Excellent abrasion and impact resistance.
Excellent chemical resistance.
Excellent UV resistance and high gloss characteristics.
Bonds to virtually all substrates
Ability to achieve high film build reducing the number of coats required for proper thickness.
Zero VOCs; environmentally friendly.
For more information, please visit www.rhinoliningsindustrial.com. (06/05/08)
Copyright © 2008 LAF/C.R.S., Inc. All rights reserved.
Looking for home improvement Q&As? Click here!
[ Back to Top ]
Related Search Terms: Product Previews, Rhino Linings Introduces FastFloor Floor Coating System, decorative floors, industrial floors