We are pleased to present this information on TimberStrand laminated strand lumber, as shown and described by the manufacturer. Because we have not tested this product, we are unable to endorse it or provide you with any additional information.
---
TimberStrand® LSL Celebrates 15 Years of Improving Home Construction!
For 15 years home builders and remodelers have used iLevel® Trus Joist® TimberStrand® laminated strand lumber (LSL) for stronger and straighter structural framing.
Introduced to the residential market in 1992 for use as rim board,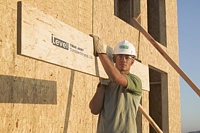 TimberStrand LSL is now used for wall studs, rafters, beams, treated sill plate, columns, window and door headers and concrete form board.
The material is manufactured using a proprietary process in which small strands of wood are dried, positioned, and bound together with resin.
Builders choose TimberStrand LSL for its stiffness, durability, consistency, and availability in long lengths (up to 64 feet in some products). Its straightness and ability to hold fasteners provide smooth walls that allow builders to install cabinets and countertops with little or no shimming.
TimberStrand LSL is manufactured from trees that are not large or straight enough for use in conventional wood building products. It also uses fibers from plentiful, fast-growing species of trees and uses a high percentage of each log.
To learn more about the complete iLevel line of residential framing products, software tools, technical support, and North American distribution network, visit www.iLevel.com. (05/12/08)
Copyright © 2008 LAF/C.R.S., Inc. All rights reserved.
Looking for home improvement Q&As? Click here!
[ Back to Top ]
Related Search Terms: Product Previews, TimberStrand laminated strand lumber, iLevel, TrusJoist, LSL, wall studs, rafters, beams