We are pleased to present this information on a waterproofing system for use in flat roof construction, as shown and described by the manufacturer. Because we have not tested this product, we are unable to endorse it or provide you with any additional information.
---
Carlisle Residential, a leading manufacturer of roofing and waterproofing materials, now offers the EZ Roof in brilliant new colors. EZ Roof is a high-performance waterproofing system designed for low-slope roofing projects.
The EZ Roof system is a self-adhering waterproofing membrane system that begins with EZ Roof Base synthetic roofing felt, which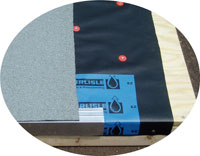 is applied with cap nails to nailable substrates. The next step is Carlisle's EZ Flash precut, self-adhering flashing rolls for sandwiching and stripping in flashing details to ensure a leak-proof installation.
The last step is Carlisle's self-adhering EZ Roof cap sheet, which is available in a variety of attractive and durable mineral-surfaced colors.
EZ Roof offers an improved aesthetic appearance for any structure and is available in five popular colors: Winter White, Grey Mist, Weathered Wood, Classic Black, and Shake Tone.
As a complete roofing system that offers unmatched flexibility, performance and ease-of-use, EZ Roof is the economical choice for any low-slope roofing application.
For more information, visit www.carlisleresidential.com. (04/28/04)
Copyright © 2008 LAF/C.R.S., Inc. All rights reserved.
Looking for home improvement Q&As? Click here!
[ Back to Top ]
Related Search Terms: Product Previews, EZ waterproofing membrane system, low-slope roofs, EZ Roof Base synthetic roofing felt