We are pleased to present this information on Coastal shingle siding panel system, as shown and described by the manufacturer. Because we have not tested this product, we are unable to endorse it or provide you with any additional information.
---
Cedar Valley Mfg. introduces a Coastal shingle siding panel!
Cedar Valley, the leader in handcrafted shingle panels, has introduced a new 7-1/8" exposure to its Coastal line of shingle panels.
Handcrafted with 1/2" thick-butt mixed-grain Western Red Cedar shingles, the 7-1/8" exposure is the newest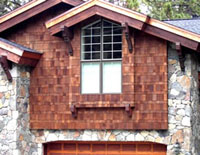 addition to the popular line of Coastal thick-butt shingle panels, offered exclusively by Cedar Valley.
Like Cedar Valley's vertical grain products, the Coastal Panel is made from 100 percent Western Red Cedar shingles and is easier and faster to install than most siding options. "Cedar Valley's shingle panel systems can be installed up to six times faster than hand-applied shingles," explains Janna Clark, Cedar Valley's General Manager.
The Cedar Valley siding system includes panels, corners, decorators, column wraps, and radius flares, all handcrafted for a classic, shingle-style appearance and superior performance. Factory finishing is available in a multitude of colors and stain options.
For more information on Cedar Valley's cedar siding systems, please visit www.cedar-valley.com. (04/30/08)
Copyright © 2008 LAF/C.R.S., Inc. All rights reserved.
Looking for home improvement Q&As? Click here!
[ Back to Top ]
Related Search Terms: Product Previews, Cedar Valley's cedar siding system, handcrafted shingle cedar panels, Western Red Cedar shingles