We are pleased to present this information on ChoiceDek as provided by the manufacturer. Because we have not tested this product, we are unable to endorse it or provide you with any additional information.
---
Weyerhaeuser ChoiceDek products offer low-maintenance decking!
Weyerhaeuser ChoiceDek products are ideal for decks, dock surfaces, playground equipment, boardwalks, handicap access ramps, and walkways.
Tested by independent laboratories under accelerated aging conditions, ChoiceDek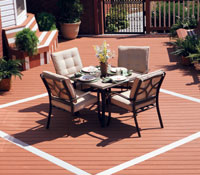 materials do not require staining, sealing, or treating and carry a manufacturer's limited, lifetime, fully transferable warranty.
The composite material is also resistant to salt water, termites, splintering, and dents from hail.
ChoiceDek boards are straight, consistent and will not split when properly installed. They are available in 12', 16', and 20' lengths in 5/4" x 6" profiles in Gray, Redwood, Sandstone, Woodtone, Driftwood, and Spice.
Their unique ribbed bottom design reduces weight while adding stiffness. Decking boards are not to be used for structural purposes, but will span 16" on center (12" on center for diagonal applications) when installed correctly.
The product line also includes a complete, decorative railing system—posts, post caps, railing, and balusters. Posts are designed with a hole in the center so wires for outdoor lighting, security, or audio systems can be concealed.
For more information on ChoiceDek, visit www.choicedek.com. (04/30/08)
Copyright © 2008 LAF/C.R.S., Inc. All rights reserved.
Looking for home improvement Q&As? Click here!
[ Back to Top ]
Related Search Terms: Product Previews, Weyerhaeuser, ChoiceDek, decking materials, decks, dock serfaces, playground equipment