We are pleased to present this information on LawnGrips footwear, as shown and described by the manufacturer. Because we have not tested this product, we are unable to endorse it or provide you with any additional information.
---
The first manufacturer of footwear designed specifically for gardeners and lawn care professionals now offers its new waterproof Brutus 7-inch lace-up men's boot.
The newest shoe from LawnGrips, LLC has a specially designed waterproof membrane, from heel to toe, plus a protective steel toe and higher sidewall to increase lateral stability.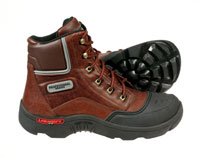 The Brutus model also has a mirror-like surface on the sole for maximum debris release and an extra padded collar for greater comfort.
As with all LawnGrips footwear, the shoe is made using high-quality materials and construction and features the patented Grip-N-Go™ outsole for traction on freshly cut grass. The tread pattern of the outsole has specialized, oblique cleats positioned in the forefoot and heel areas that provide great traction for pushing, turning and stopping.
All LawnGrips shoes also have triple stitching, a steel shank, composite insole board with polyurethane midsole for comfort and support, and water and stain resistant leather uppers.
For further information, please visit www.lawngrips.com. (05/31/08 & 08/03/11)



CLICK LINK BELOW TO PURCHASE FROM AMAZON
LawnGrips Brutus waterproof lace-up workboot with steel toe
Copyright © 2008 & 2011 LAF/C.R.S., Inc. All rights reserved.
Looking for home improvement Q&As? Click here!
[ Back to Top ]
Related Search Terms: Product Previews, LawnGrips Brutus lace-up waterproof workboot, Lawngrips Brutus workboots with steel toe