We are pleased to present information on LawnGrips shoes, as shown and described by the company offering it. Because we have not tested this product, we are unable to endorse it or provide you with any additional information.
---
Be safer, more comfortable while mowing and gardening!
You'll cut only grass—not yourself—when mowing the lawn if you buy a pair of LawnGrips™ performance shoes to replace those ratty old sneakers that offer no protection should the mower or blade hit your foot. You will also feel more comfortable and have added traction.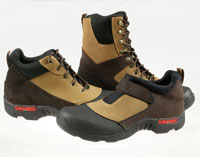 LawnGrips shoes from LawnGrips, LLC feature a waterproof, protective toe and the patented Grip-N-Go outsole for superior traction on freshly cut grass. The tread pattern has specialized, oblique lugs in the forefoot and heel areas to provide traction for pushing, turning, and stopping.
The shoes additionally have a composite insole board with polyurethane midsole for comfort and support as well as waterproof leather and an easy hook and loop closure system.
The LawnGrips line includes the original Men's Classic slip-on model; the Men's Classic LT is made for those who prefer no steel toe; the Men's Pro has a 6-inch lace-up; and the Pro8 work boot has an 8-inch lace-up for maximum support on uneven terrain.
For more information, please visit www.lawngrips.com. (05/08/08 & 08/03/11)



CLICK LINKS BELOW TO PURCHASE FROM AMAZON
LawnGrips Classic slip-on Workshoe with Steel Toe
LawnGrips 6-inch lace-up Pro Workboot with Steel Toe
LawnGrips 8-inch lace-up Pro Workboot with Steel Toe
OR
All LawnGrips Shoes
Copyright © 2008 & 2011 LAF/C.R.S., Inc. All rights reserved.
Looking for home improvement Q&As? Click here!
[ Back to Top ]
Related Search Terms: Product Previews, LawnGrips Classic workshoes with steel toe, Lawngrips Pro workboots with steel toe