We are pleased to present this information on this SOLO pressure sprayer model 430-2G, as shown and described by the manufacturer. Because we have not tested this product, we are unable to endorse it or provide you with any additional information.
---
The SOLO Pressure Sprayer Model 430-2G is designed for medium to large jobs at home, on the farm, or for professional applications, and features a newly designed high-performance piston pump that pressurizes the tank with as much as 50 percent more efficiency than competitive units.
In addition to its easy-to-fill funnel top and easy-to-clean large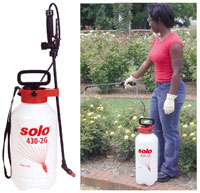 secondary opening, the sprayer has a commercial shut-off valve with a lock-on/lock-off feature to minimize user fatigue.
The two-gallon unit also has a long-lasting HDPE tank with UV inhibitors that resist corrosion as well as a pressure relief valve that releases excess pressure. It is covered by a five-year limited warranty and comes with a 28" unbreakable wand for extended reach; an adjustable shoulder strap and built-in wand retainer for easy carrying and storage; and a four-nozzle assortment for multiple spraying tasks: flat-fan, jet stream, conical, and adjustable.
Similar models are available with one-gallon capacity (Model 430-1G) and three-gallon capacity (Model 430-3G).
For more information, please visit www.solousa.com. (05/09/08 & 09/02/11)



CLICK LINKS BELOW TO PURCHASE FROM AMAZON
SOLO Handheld Sprayer - 2-Gallon, Model# 430-2G
SOLO 3-Gallon Sprayer Hand Held Compression Type #430-3G
OR
All SOLO Pressure Sprayers
Copyright © 2008 & 2011 LAF/C.R.S., Inc. All rights reserved.
Looking for home improvement Q&As? Click here!
[ Back to Top ]
Related Search Terms: Product Previews, SOLO 430-2G pressure sprayer, Solo 430-3G pressure sprayer, 2 gallon Solo sprayer