We are pleased to present this information on the AirFlow Breeze vent, as shown and described by the manufacturer on a product that can help to make your home more comfortable. Because we have not tested this product, we are unable to endorse it or provide you with any additional information.
---
Stay cozy this winter and lower your utility bills with the AirFlow Breeze vent from AirFlow™ Technology.
This unit gently delivers warm or cool air to any area in the home that consistently remains too hot or too cold. With the latest upgrades, the AirFlow Breeze now fits into most floor and wall standard register openings.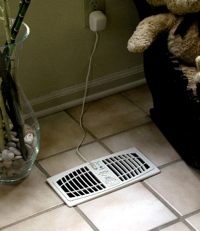 The AirFlow Breeze uses two low-voltage fans which automatically turn on and off by a temperature sensing electronic controller to increase the volume of air delivered into the uncomfortable space. A three-speed setting option controls the amount of airflow.
When the fan from the central HVAC system cycles off, conditioned air lingers in the ducts. The AirFlow Breeze pulls that conditioned air into the room, keeping it comfortable longer and maximizing circulation of the conditioned air. The central HVAC system needs to run less often, which can help lower utility bills.
For more information, contact AirFlow™ Technology at www.aftproducts.com. (12/12/07 & 07/04/11).



CLICK LINKS BELOW TO PURCHASE FROM AMAZON
AF410A Almond AirFlow Breeze, Quiet Register Booster Fan
AF410B Brown AirFlow Breeze, Quiet Register Booster Fan
Copyright © 2007 & 2011 LAF/C.R.S., Inc. All rights reserved.
Looking for home improvement Q&As? Click here!
[ Back to Top ]
Related Search Terms: Product Previews, Heating Products, AirFlow Breeze floor vents, HVAC systems, heating ducts, air conditioner