We are pleased to present this information on Fireplace Xtrordinair's electric fireplace, as shown and described by the manufacturer on a product that can help to make your home more comfortable. Because we have not tested this product, we are unable to endorse it or provide you with any additional information.
---
Ideal for small living spaces, the Bed & Breakfast by Fireplace Xtrordinair is an electric portrait-style fireplace. Perfect for simple installations within apartments and condos, it is smaller than a traditional fireplace but combines the ambiance of fire with the convenience of electricity—just plug and play.
A unique feature of the Bed & Breakfast fireplace is a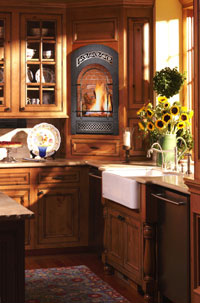 built-in sound card emitting a crackling fire sound. The sound feature is compatible with iPod™ Nano or can be upgraded with another MP3 stereo system.
With a 1,350-watt electric heater and quiet adjustable convection fan, it heats like a space heater. It also comes with options for a custom look: four arched face designs and three interchangeable polycarbonate interior liners.
The portrait-style design features a three-dimensional log set, computerized LED flame for fire realism, built-in air purifier, and removable fire screen atop its fire-viewing area of 300 square inches.
The Electric Bed & Breakfast by Fireplace Xtrordinair comes with a 7-year warranty, and operates via residential electricity. For more information on the Bed & Breakfast by Fireplace Xtrordinair, visit www.fireplacex.com. (04/30/08)
Copyright © 2008 LAF/C.R.S., Inc. All rights reserved.
Looking for home improvement Q&As? Click here!
[ Back to Top ]
Related Search Terms: Product Previews, Heating Products, Bed and Breakfast, fireplaces by Xtrordinair, electric fireplace, crackling fire