We are pleased to present this information on Hyster Fortis line of lift trucks, as shown and described by the manufacturer offering such equipment. Because we have not checked into this product being offered, we are unable to endorse it or provide you with any additional information.
---
Hyster Company of Greenville, NC, presents the Fortis® line of lift trucks designed for maximum durability and ease of maintenance.
The manufacturing and design advances of the series are shown to decrease downtime by up to 30 percent and save over $2,200 annually in operating costs.
The Fortis transmission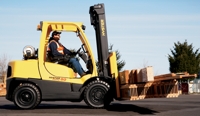 systems include the Auto Deceleration System, with features designed to help operators move loads efficiently with less fatigue and product damage.
Innovations of the Fortis series to help reduce costs related to fatigue include repositioned foot pedals, fatigue-reducing operator compartments designed to isolate vibrations, and easily adjustable operator settings.
In addition to the superior dependability of the Fortis series, Hyster lift trucks are supported by one of the largest and most experienced dealer networks in the industry. Hyster Company also offers the industry's most comprehensive standard warranty and affordable, flexible financing programs.
For more information, please visit www.hysteramericas.com. (12/14/07).
Copyright © 2007 LAF/C.R.S., Inc. All rights reserved.
Looking for home improvement Q&As? Click here!
[ Back to Top ]
Related Search Terms: Product Previews, Hyster Fortis line of lift trucks, dependable lift trucks, auto deceleration system, forklifts