We are pleased to present this information on TELEHOOK Cable Manager and Shelf System, as shown and described by the manufacturer. Because we have not tested this product, we are unable to endorse it or provide you with any additional information.
---
Atdec, a leading visual display mounting company, offers a simple way to conceal audio visual (AV) cables and to support AV and gaming equipment in their TELEHOOK Cable Manager and Shelf System.
The cable management channel is a 4' long sleek aluminum casing able to house up to 10 power and AV cables.
Cable Manager Shelves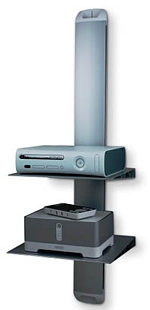 offer an elegant solution to support any type of AV equipment.
Ideal for installations where cable management is required, the stylish design of TELEHOOK Cable Manager and Shelf System reduces visual cable clutter. Its slim profile is just 1" from the wall and additional AV equipment and cables can be added or removed easily.
The TELEHOOK Cable Manager and Shelf system can be mounted to drywall in any position without the need to locate and be fixed to studs. Its shelves feature a large support area that safely accommodates even the largest Hi-Fi equipment up to 26.5 lbs. per shelf. Shelves can be easily added and removed and slide up and down for height adjustment.
All Atdec products are Design for Disassembly (DFD), i.e., made to be taken apart easily for recycling at the end of life. Atdec also offers a free return policy at the end of product life.
For more information, please visit www.atdec.com. (06/01/08)



CLICK LINK BELOW TO PURCHASE FROM AMAZON
Telehook Cable Manager Silver holds up to 4 Shelves
Copyright © 2008 LAF/C.R.S., Inc. All rights reserved.
Looking for home improvement Q&As? Click here!
[ Back to Top ]
Related Search Terms: Product Previews, TELEHOOK Cable Manager and Shelf System, audio visual equipment, AV cable, conceal cables