We are pleased to present this information on custom ceramic and porcelain art, as shown and described by the Molly Hammond of Tile Images. Because we have not checked into this product, we are unable to endorse it or provide you with any additional information.
---
Molly Hammond of Tile Images helps homeowners and home builders to forgo the "cookie cutter" features of modern living. She uses the ancient art of china painting to custom design and hand paint sinks, tiles, and water closets, working with her clients to meet their project parameters. All Molly's work is hand painted and custom designed. No decals are used and no two pieces will ever be the same.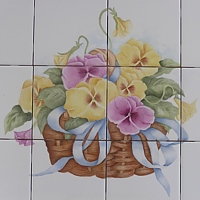 Painting on ceramic and porcelain results in permanent pieces of art. China painting involves multiple layers of special glaze applied to a piece of previously glazed porcelain or ceramic to form a visual design. After each layer is painted, the piece is fired in a kiln to form a permanent glaze. The tiles can be used anywhere tile is used: floors, pools, tubs, spas, showers, outside walls, backsplashes, or fireplaces.
"Creating usable art that enhances my clients' homes is very fulfilling to me and it adds that needed touch their homes," states Molly.
For more information about Molly Hammond's work, please visit www.ppio.com/tileimages.html (01/02/08).
Copyright © 2008 LAF/C.R.S., Inc. All rights reserved.
Looking for home improvement Q&As? Click here!
[ Back to Top ]
Related Search Terms: Product Previews, custom ceramic and porcelain for home decor, Molly Hammond, Tile Images, kiln, glaze