We are pleased to present information on pillows and fabrics, as shown and described by the company offering it. Because we have not tested this product, we are unable to endorse it or provide you with any additional information.
---
Kaaya, a home décor and textiles firm, specializes in high-quality hand-crafted materials for the home using natural fibers, sustainable methods, and eco-friendly vegetable or azo-free fabric dyes.
Azo can be potentially carcinogenic when it migrates to human skin. Azo dyes aren't biodegradable and are difficult to remove from the environment.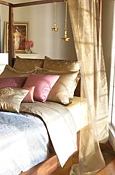 Kaaya is pleased to introduce a new line of pillows and fabrics using "ahimsa" or peaceful silk, which is created without harming the silk worm.
Artisan embroiderers create designs with a perfection that surpasses machine embroidery. Kaaya specializes in screen printing, hand block printing, hand-painted fabrics, and hand-embroidered fabrics.
For more information, please visit www.kaayahome.com. (05/08/08)
Copyright © 2008 LAF/C.R.S., Inc. All rights reserved.
Looking for home improvement Q&As? Click here!
[ Back to Top ]
Related Search Terms: Product Previews, Kaaya, home decor and textiles, pillows and fabrics made from ahimsa, peaceful silk