We are pleased to present this information on BAGSTER Dumpster-in-a-Bag, as shown and described by the manufacturer. Because we have not tested this product or its service, we are unable to endorse it or provide you with any additional information.
---
While many of us may need some help in cleaning up our homes, few of us can afford a professional organizer. One new tool that DIY homeowners are using to organize and reclaim space is the BAGSTER™ Dumpster-in-a-Bag™, a convenient and affordable solution to clutter.
The BAGSTER bag offers the strength of a steel dumpster in an 8-foot-long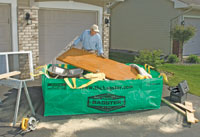 woven polypropylene bag—perfect for small- to medium-sized home clean-ups. Sturdy and lightweight, the bag is easily set up and easy to fill. The bag is ready when you are because it is purchased at a retail store. One call to 1-877-789-BAGS sets up the removal of all your unwanted trash and debris. BAGSTER bags and collection service are currently available in Atlanta, Cleveland, Denver, Minneapolis, Orlando, Fla., Tampa, Fla., Conn., R.I. and Mass.
The Bagster is ideal for smaller home improvement projects, landscaping, moving preparation, and home cleanup projects. Its total weight capacity is 3,300 lb., or 1.75 tons, with a volume of 3 cubic yards or 606 gallons.
For more information, please visit www.thebagster.com. (05/09/08 & 09/03/11)



CLICK LINK BELOW TO PURCHASE FROM AMAZON
Bagster 3CUYD Dumpster in a Bag
Copyright © 2008 & 2011 LAF/C.R.S., Inc. All rights reserved.
Looking for home improvement Q&As? Click here!
[ Back to Top ]
Related Search Terms: Product Previews, BAGSTER, Dumpster in a bag, organize and reclaimed building materials, trash and debris