We are pleased to present this information on Environmental Service Professionals, Inc., as shown and described by the company. Because we have not tested this product, we are unable to endorse it or provide you with any additional information.
---
Indoor air quality can severely impact personal health, ongoing maintenance costs, and property value.
Environmental Service Professionals, Inc. (ESP), through its subsidiaries, is launching several new programs that will reshape the moisture, mold and home inspection industries.
These two industries will become one through our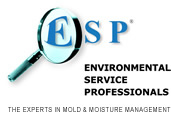 new Certified Environmental Home Inspector (CEHI) Program.
ESP is keenly aware of future concerns related to moisture/mold that will affect the insurance, mortgage banking, real estate, and building industries. This program will establish a well balanced, cost-effective way to address issues that for many years have not been dealt with due to uncertainty of liability.
"ESP is committed to providing these Programs in addition to world-class education and training of our staff members in the techniques and ethics of delivering these services to our clients," said Mr. Torres, Chairman and CEO of ESP, Inc.
For more information, please visit www.evsp.com. (06/03/08)
Copyright © 2008 LAF/C.R.S., Inc. All rights reserved.
Looking for home improvement Q&As? Click here!
[ Back to Top ]
Related Search Terms: Product Previews, Environmental Service Professionals, indoor air quality, ESP, home inspectors, mold, CEHI