We are pleased to present this information on Leica Geosystems' Builder RM, as shown and described by the manufacturer. Because we have not tested this product, we are unable to endorse it or provide you with any additional information.
---
Leica Geosystems' Builder RM Power Model Makes Simplifies Construction Layout and Measurement.
Leica Geosystems' Builder RM power features advanced multi-mode electronic distance measurement (EDM), a mobile phone style keypad, and new features with the built-in Leica PowerSite Software.
It is equipped with the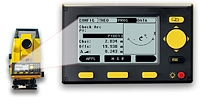 most advanced EDM in the construction market and a mobile phone style keypad for fast data entry. Construction users get the highest degree of measurement accuracy, quality and reliability even under the toughest conditions.
The easy-to-use keyboard and display give the Leica Builder RM power unrivalled operational simplicity. Its unique and straightforward operation accelerates construction site tasks including layout or as-built checks. New features of the Leica PowerSite Software make complex tasks such as layout of curved structures, measuring to hidden points and layout using intersection points or grid points easy.
Designed for construction use, it withstands wind, weather, and dirt and is easy to transport.
For further information, please visit www.leica-geosystems.com/us/en/index.htm. (06/07/08 & 10/22/11)
Copyright © 2008 & 2011 LAF/C.R.S., Inc. All rights reserved.
Looking for home improvement Q&As? Click here!
[ Back to Top ]
Related Search Terms: Product Previews, Leica Geosystems' Builder RM, construction layout, electronic distance measurement, EDM