We are pleased to present information on Leica DISTO D3, as shown and described by the manufacturer. Because we have not tested this product, we are unable to endorse it or provide you with any additional information.
---
The Leica DISTO™ D3 is the smallest, most reliable laser distance meter in the world. Easily and reliably measure distances of up to 325 ft within 1/16"—in spite of nearby obstructions—and determine angles quickly and precisely.
Aim the instrument straight at the target point, whether measuring out of corners, slots, or from edges; the instrument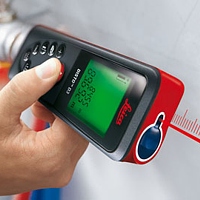 automatically detects the end piece. Its built-in tilt sensor quickly determines tilts up to ±45°. The tilt sensor also provides the user with true horizontal distances.
A built-in sensor switches on the illumination of the keypad and display allowing measurements in the dark. In addition, the multi-function Leica DISTO D3 calculates areas, volumes, and room dimensions and it supports various Pythagorean functions. A time-delay release and memory for up to 20 measurements finish off its wide range of functions.
UPDATE: The D3 may be out of production and is being replaced by the new improved, DISTO D330. While not confirmed by the manufacturer, the DISTO D330 is to be more accurate and offers a much larger, brighter display with larger fonts for easier readability.
For additional information about this product and other measuring tools, visit www.disto.com (12/06/07 & 10/22/11).



CLICK LINK BELOW TO PURCHASE FROM AMAZON
Leica DISTO D3 & Leica LINO L2 Bundle Package
Leica Disto D330 Laser Distance Meter with 325-Foot Range
OR
All Leica DISTO Distance Measure Lasers
Copyright © 2007 & 2011 LAF/C.R.S., Inc. All rights reserved.
Looking for home improvement Q&As? Click here!
[ Back to Top ]
Related Search Terms: Product Previews, Leica DISTO D3, Leica LINO L2, laser distance meters, measuring laser instrument, D330