We are pleased to present this information on Leica LINO L2, as shown and described by the manufacturer. Because we have not tested this product, we are unable to endorse it or provide you with any additional information.
---
Leica Geosystems has used their extensive experience and proven Leica quality standards to develop a line-laser for precise and perfectly visible laser lines.
The quality of the optics is important for the lines to be highly visible and sharp.
The Leica LINO™ L2 is equipped with proven Leica Power Range Technology™ to guarantee excellent visibility, even in a bright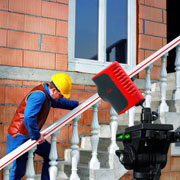 environment. Accurate to +/- .04" at 16', the Leica LINO L2 is one of the most precise devices in its class.
With the new self-leveling Leica LINO everyday alignment and positioning tasks are quick and precise. The self-leveling feature can be switched off by locking the device. This not only protects the Leica LINO while it is being moved; it is also useful when projecting from unusual positions.
The LINO includes a magnetic multifunctional adapter, which allows it to be set up in a wide range of situations, and a target plate that is useful when a projection surface is required in a unenclosed space. The ball and socket adapter allows projections from surfaces sloping at all angles.
For more information, please visit www.leica-geosystems.com/en/index.htm. (06/03/08 & 10/22/11)



CLICK LINK BELOW TO PURCHASE FROM AMAZON
All Leica Lino L2 Laser Alignment Tools
Copyright © 2008 & 2011 LAF/C.R.S., Inc. All rights reserved.
Looking for home improvement Q&As? Click here!
[ Back to Top ]
Related Search Terms: Product Previews, Leica LINO L2, laser alignment tool, Leica Geosystems, Leica Power Range Technology