We are pleased to present this information on Leica Geosystems' PowerDigger, as shown and described by the manufacturer. Because we have not tested this product, we are unable to endorse it or provide you with any additional information.
---
Rich Calvird, Product Marketing Manager with Leica Geosystems, says, "PowerDigger, with its large new color display, is the easiest way to make excavator operations faster and more accurate.
"The bright color graphics guide the operator straight to the target grade with minimal passes."
PowerDigger features a large, see-at-glance color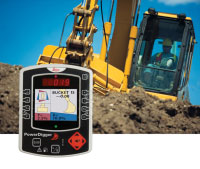 display screen giving the operator precise information on the depth and position of the excavator bucket. Operators can dig with ease and confidence, even in demanding "blind cut" situations. Multiple job settings let the operator switch between different digging profiles at the touch of a button, and custom profiles can even be created on the machine to continue from existing ground profiles.
"In summary, the PowerDigger makes the most complex excavator jobs simple," concludes Calvird.
For futher information, please visit www.leica-geosystems.com/us/en/index.htm. (06/07/08 & 10/22/11)
Copyright © 2008 & 2011 LAF/C.R.S., Inc. All rights reserved.
Looking for home improvement Q&As? Click here!
[ Back to Top ]
Related Search Terms: Product Previews, complex excavator jobs, Leica Geosystems, PowerDigger, automated excavation system