We are pleased to present this information on DrapeStyle insulated drapes, as shown and described by the manufacturer that can help to insulate your home. Because we have not tested this product, we are unable to endorse it or provide you with any additional information.
---
Is your heating bill through the roof? A relatively small investment can make your home more energy efficient, reduce utility bills, and save thousand in years to come. The U.S. Department of Energy reports insulated draperies or window treatments can reduce heat loss up to 25%.
"Installing insulated draperies substantially reduce heat loss," said Lisa Sinatra, Creative Director at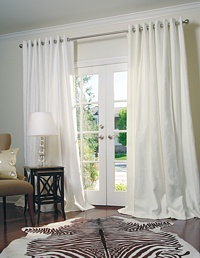 DrapeStyle.com. "For maximum energy efficiency, let drapes fall onto the windowsill or floor and install a cornice at the top of a drapery or place against the ceiling."
California-based DrapeStyle designs and manufactures affordable custom silk and linen drapes. Their Estate Linen Collection is a heavier weight 12-ounce linen. All of the company's silk drapes have cotton sateen lining and heavy flannel interlining. Every panel is custom made in their California studio.
The company accommodates unique requests—including any width, length or fabric—and all work is 100% guaranteed.
For more information about DrapeStyle's Estate Linen Collection and other drapery styles, visit their website at www.drapestyle.com (12/09/07).
Copyright © 2007 LAF/C.R.S., Inc. All rights reserved.
Looking for home improvement Q&As? Click here!
[ Back to Top ]
Related Search Terms: Product Previews, DrapeStyle, insulated drapes, reduce utility bills, insulated draperies, window treatments