We are pleased to present this information on EnergyBlock, as shown and described provided by the manufacturer that can help to insulate your home. Because we have not tested this product, we are unable to endorse it or provide you with any additional information.
---
It's a problem that affects almost every residential or commercial building: preventing outside air from coming in and inside air from flowing out. A large portion of energy loss passes through drafty electrical outlet and light switch boxes.
EnergyBlock, foam insulation molded to fit perfectly around standard electrical boxes, results in a near-perfect seal.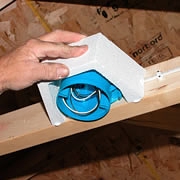 According to research by North Dakota State University, EnergyBlock saves up to $50 in energy loss per year and can be installed in a new home for $200 to $400. With 1.8 million homes built each year in the U.S., EnergyBlock could save millions of dollars each year. Installation takes less than 2 minutes per box and it meets the International Building Code for flame spread and smoke development.
EnergyBlock is installed after rough wiring is complete so there is no chance of breaking the seal where the wire enters the box. EnergyBlock also consistently provides R-10 insulation behind the outlet, reducing the chance of mold formation.
Learn about EnergyBlocks online at www.energyblock.com (01/04/08).
Copyright © 2008 LAF/C.R.S., Inc. All rights reserved.
Looking for home improvement Q&As? Click here!
[ Back to Top ]
Related Search Terms: Product Previews, EnergyBlock, seal outlet boxes, energy loss per year, drafty electrical outlet, foam insulation