This is a case where a paint will help enhance brick look

Hi, Leon: We painted the exterior of our home two years ago but didn't get a good color match to the exterior brick. Instead of repainting the house a different color, I think it would be easier to paint the exterior brick instead, but I realize that painting the brick isn't always a good idea. I am sending a few pictures so you can see for yourself how bad the colors look together. The brick is basically mauve and the house color is an unattractive-sounding "Forest Floor."
Can you suggest a kind of paint we could use on the brick without the house looking like one flat color? Perhaps a stain would be a good option? Should we go lighter or darker? The brick is well protected from weather by a covered walkway facing north. Any suggestions you have will be appreciated.

Thanks for your questions and photos. I'm not a big fan of painted bricks, but this may be an exception since your dusty rose-colored bricks certainly appear dated. It's difficult to match paint color to pink bricks with a tan base, so I agree—it's time to paint them!
I looked carefully at your photos and while it appears that you have brick, you really have a fabricated stone that was manufactured between the late 1950s and early 1970s. These blocks were made in several different sizes and all three sizes were used together to create different patterns. This product was primarily fabricated for use in wall and fireplace facing, exterior wainscoting, or—in your case—the front of your home.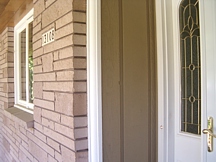 The paint recommended will bring out the pattern created by the randomly sized fabricated stone.
Bricks, of course, are made of clay, but these fabricated stone products are made similar to blocks using Portland cement, fine and coarse sand, pea gravel, powdered dye and dolomite. While dolomite often comes in pink or is pinkish in color, white was used in your blocks.
It's interesting that while powdered dye colored this fabricated stone, each block produced was then split lengthwise to give the face a textured stone look. This exposed white flakes of dolomite that didn't get colored—giving the fabricated stone a unique character. If the flakes are not noticeable in yours, you'll be able to see them once you clean the surface.
It appears from the photos that the stones were used only on your home's facade. Lucky you—you've got a smaller area to work with! You could stain the fabricated stone with a penetrating stain designed for masonry products. Some products should be professionally applied, or you can do the project yourself with a water-based masonry primer and a 100 percent acrylic latex topcoat.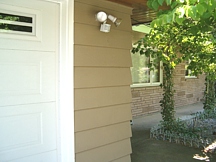 New color will add life and depth to the walkway bricks.
These products repel water and yet allow the substrate to breathe; if the coating didn't breathe, then water would migrate toward the (warm) interior walls during the winter months. During warm temperatures, water will be pulled to the (warm) exterior side causing the vapors to stain the surface and the coating (paint) to peel. It's very important to use a product that allows the substrate to breathe. A primer is required before the finish coat can be applied; the primer also needs to create a breathable barrier within the substrate surface.
Before beginning, it's important to properly prepare the stone and mortar for the application. Because bricks, or masonry products in general, are porous and can retain water, it's important that water from sprinklers not be directed at wall surfaces. Do not allow snow to rest against the walls during winter months, probably not an area of concern since you have a covered walkway. The stone needs to be thoroughly dry before beginning the project. If the bricks or masonry products have been painted or have any other surface coating, the surface should be cleaned with a mild sandblasting or chemical treatment. I recommend having a professional handle this phase of the project but since your fabricated stone still looks natural and it's such a small area, you shouldn't have any problem cleaning the surface using a good detergent like TSP (trisodium phosphate). Follow the manufacturer's recommendations on the package. You'll achieve best results by scrubbing lengthwise using a medium brush. When the surface is clean, rinse with fresh water from your garden hose. If TSP is not available in your area or its use is prohibited because of ground water regulations, your paint dealer can suggest an environmentally safe non-phosphate product. Be sure to examine carefully and repair mortar joints as needed, filling any cracks over 1/64" with an exterior silicone-modified acrylic latex caulk that clearly states it can be painted.
Columbia paint (www.columbiapaint.com) produces "Master Grip," an epoxy-modified acrylic latex primer specifically designed for masonry substrates, including fabricated stone and mortar. This product has excellent resistance to high alkalinity and migration of efflorescence (crusty white deposits of soluble salts), potential problems that are specific to masonry building materials. Figure that a gallon will provide only 100 to 150 sq. ft. of coverage due to the rough profile of the stone. You really don't want to skimp on the primer, so carefully follow the guidelines on the product label.
Over the last 20 years, I have worked on several projects with my wife, Kimberly, a design consultant, both at home and for her clients, so I turned to her for color recommendations. The logical place to start would be to find a fan deck containing the Forest Floor color used to paint your home. We were unable to find the color, but we learned that it was from the "Infinity" collection, a private label for the now defunct Home Base. Kimberly worked from the images you sent and likes the color you chose for your home but says the stone needs a more striking color. She recommends Sherwin Williams' "Thatch Brown" her second choice is Columbia Paint's "Wooly Thyme," one of their historic colors. Either one of these two colors will provide a strong contrast yet stay in the same color range as "Forest Floor."
I've used Columbia Paint products throughout my professional career, and I recommend their products. Columbia's Masterpiece Legacy, a polyurethane modified acrylic latex, contains ceramic microspheres which provide excellent adhesion and exterior durability for your stone surface. It dries to a velvet finish and carries a lifetime warranty. For the same velvet finish with a 20-year limited warranty, try their Masterpiece 100 percent Acrylic Velvet.
I suggest that you contact the paint manufacturers for color chips of the paints Kimberly recommends to see which one works best with the existing color. The brush is in your hand now; let me know which color you finally decide on—and good luck!
Copyright © 2004, 2006, & 2007 LAF/C.R.S., Inc. All rights reserved.
Question answered by Leon A. Frechette.
[ Back to Top ]
---