Stairs built correctly

My husband built our basement stairs and instead of enclosing the back of each step individually, he attached a solid sheet of plywood behind the stairs. Underneath the stairs he installed a pantry, 6 ft. tall and 4 ft. wide. My problem is that dust and dirt filter down through the back openings of the steps. In addition, the stairs do not seem to project out far enough into the basement—I don't think they meet code requirements. Any help you could offer to help fix my problem would be greatly appreciated.

No matter where the stairs are to be installed, the rule of thumb to be followed when building stairs is 7/10, i.e., a 7" rise and a 10" tread. These are maximum finished measurements and include a 1" overhang on the tread. Generally, building codes use a rule where the measurements of two risers and one run (nose to nose of tread) added together should equal no more than 25". Stairs within a private residence are allowed a maximum 8" riser and a minimum 9" run (personally, I find 8" risers too high).
Take a tape measure and actually measure a riser and tread on your stairs to see if they fall within the 7/10 rule. Also, take a look at the diagram below, taken from my book Builder's Guide to Decks, for a good visual of stair layout and construction. If your measurements are greater than the 7/10 rule I gave above, then the stairs need to be torn out and replaced. I recommend you get a copy of my book and start on page 188, Chapter 6, to learn how to build stairs professionally. Otherwise, bring in a stair builder—and be sure to get a building permit.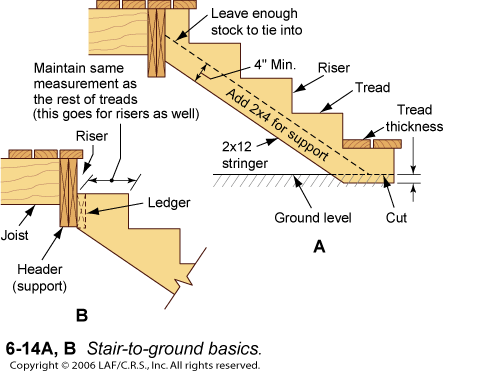 Normally when a basement is left unfinished, kickers (risers) are not installed to save costs. They are frequently added when the basement is completed so the stairs will accept carpet. If your measurement falls within the 7/10 rule of thumb, then start at the bottom and remove the first three treads. Cut 3/4" x (height of the riser) material (pine or plywood) for use as kickers to be attached to the front face of the stringer. Attach the first two kickers, and then attach the tread. Install at least four 1 1/2" screws on the backside of the kicker and into the tread material (the screws will help prevent squeaks). Be sure to predrill a pilot hole for the screws to prevent the kicker from cracking. Repeat the process until you reach the top landing or last step. If you want to prevent all squeaks, use wood glue and screws to attach all kickers and treads to the stringers.
As you build, remember that there's more to safe stairs than correctly sized treads and risers. Use your head—and save your head! Check to make sure you have maintained a minimum 6'8" headroom on the stairway. This may be reduced at the bottom of the stairs to match the basement ceiling height—just remember to duck in time! Finally, install a layer of 5/8" type X (fire resistant) wallboard under the stairs to protect the stairs (for a short time) in case a fire starts and you need to exit the basement.
By the way—if your pantry doesn't have a door, consider installing one to prevent additional dust or dirt from accumulating.
To order Builder's Guide to Decks, click here or click the purchase button below!

Copyright © 1999 & 2006 LAF/C.R.S., Inc. All rights reserved.
Question answered by Leon A. Frechette.
[ Back to Top ]
---