How do I patch a small hole in my popcorn ceiling?

I've got a small hole in my popcorn ceiling. How do I patch it?

I have an important word of caution before you begin. It's possible that your ceiling contains an asbestos level of 3 to 8 percent. Get the facts on your popcorn ceiling by having a sample tested at a laboratory. Your safety and the safety of your family is at stake. Check out the Q&As here to learn how to safely obtain a sample.
Whether you are just touching up a popcorn ceiling or repairing a damaged ceiling area, it can be difficult to achieve an undisturbed look. However, if you follow what is described here, your project will appear as professional as you would expect it to be if you hired a pro—just a lot less expensive.
If your ceiling doesn't contain asbestos, begin the patching process. After installing new drywall in the damaged area, use a 4" taping knife to scrape off acoustical material at least 14" wider around the patch. This is the area where you will apply joint compound and tape.
It's easier to scrape the area if it is wet rather than when it is dry. A spray bottle with warm water will saturate the popcorn provided your ceiling hasn't been painted. If it has, then you'll have to scrape it dry. When you are satisfied with your taping job and the joint compound is thoroughly dry, apply white shellac over the new area and overlap it into the existing popcorn ceiling by about 12".
After the shellac dries, respray the texture using an air hopper. You can rent one at your local rental center. You can also get a compressor and the ceiling mix there as well. However, read the rest of this Q&A before attempting to spray the texture.
Take 6-mil plastic about 14" wide and long enough to completely encircle the patched area. Use push tacks and apply the plastic to the edge of the existing acoustical texture so the plastic hangs down. This will prevent you from spraying onto the existing ceiling and creating a build-up. It is important to keep your distance from the work area and to apply a very thin coat onto the ceiling encircled by the plastic.
If you have never used an air hopper, first spray a scrap piece of drywall to get a feel for the gun. A good place to try this would be up against a garage door—be sure to tape a plastic backdrop using painter's blue masking tape to the area where you will be testing.
After the sprayed-on texture is completely dry, apply a second coat and allow it to dry thoroughly. Now remove the plastic and carefully examine the patched area. If you like how it looks (that is, it is level across from the new to the old), then you are done. A third coat may be required, so make sure that you don't overlap any existing ceiling texture.
After it dries completely, you may see some bleed-through, so apply shellac to the area as described above, let it dry, and see how it looks. For a uniform finished appearance, apply good quality flat white paint to the entire ceiling.
Before you begin any popcorn ceiling repair project, I encourage you to read all the Q&As here carefully, check out all the links to read what others have to offer, and consult your local/regional/state air quality authorities about the applicable regulations before you begin the project.
Asbestos abatement has stringent requirements. When you finish your research, you may decide to turn it over to the pros, something I heartily recommend.
I've been in the construction field for over 25 years and wish I'd known then what I know now about asbestos. I would not have tackled a lot of projects because of the asbestos content of so many building products.
To get the whole picture, I recommend that you purchase my informative article, Asbestos In Popcorn Ceilings,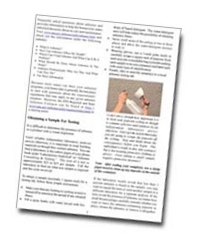 which describes how to determine if asbestos is present and the steps a professional takes to decide if removal is the correct course of action. These same steps apply to homeowners facing the same decisions.
Included are links to government and state agencies where you can get more information on the subject, locate state-certified professional asbestos contractors for removal, and find other documents that address removing the asbestos yourself.
As an added bonus, Patching a Popcorn Ceiling has been added to Asbestos In Popcorn Ceilings to help those who need to make repairs to their ceilings. The process is about the same whether the ceiling contains asbestos or not; however, for your own peace of mind, you still need to determine if your ceiling contains asbestos, and the article describes procedures to follow to safely take a sample for testing.
---
| | |
| --- | --- |
| | Don't forget—before starting this project get your informative 10-page PDF article titled Asbestos In Popcorn Ceilings and Patching a Popcorn Ceiling. To order your downloadable .pdf printable copy, click here or click the purchase button to the left! |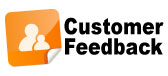 Copyright © 2001, 2004, 2006, & 2007 LAF/C.R.S., Inc. All rights reserved.
Question answered by Leon A. Frechette.
[ Back to Top ]
---