Repair a firebox floor

I have a fireplace that has a hole in the flooring underneath where the grill sits. I am not sure where it goes, but the entire floor of the fireplace is unstable. How do I go about repairing it? Is my only option brick? —Thank you.

If this is a traditionally built brick fireplace, then it should have an ash pit built under the floor. A small-hinged (ash pit) door built into the floor and normally located directly under the grill tilts to permit the ashes to fall into this pit. If you have a basement, then a cleanout door should be located on the chimney near the basement floor. If there is no basement, then the door should be located outside. It sounds like the small-hinged door is missing or damaged, which could explain the unstable floor in this area.
What to do first:
locate the clean-out door so you are aware of its location
remove the grill and any ash from the firebox
locate the small-hinged door
if the door is there, carefully inspect it for damage
if the door is missing, inspect the area for damage
open the clean-out door to see if the small-hinge door has fallen into the pit
To repair, remove all damaged or loose bricks. If the ash pit door is missing, contact a local fireplace company and purchase a new one. That also goes for purchasing new firebricks (do not use regular bricks).
Rent a masonry saw from a rental yard, cut bricks to fit—including a cutout for the ash pit door and then do a dry run. When you are satisfied with their fit, remove the bricks and wet down existing bricks to help keep the new mortar from drying too quickly.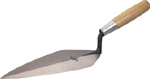 Using a bricklayer's trowel, such as the one shown by Marshalltown, apply mortar to the new bricks (one brick at a time) and to the surfaces it will fit up against. Place the brick into place and gently tap the top of the brick using the butt of the trowel's handle. Continue until completed.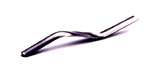 Before the mortar sets up, remove any excess mortar using a bricklayer's trowel and finish the joints using a brick jointer or pointing tool similar to Marshalltown's. Known as pointing, all you do is run the pointing tool along each joint to scrape out and compress the mortar. Basically all you do is run the pointing tool along each joint to scrape out and compress the mortar.
If you feel uncomfortable about handling this project, you can always bring in a mason.
Copyright © 2001, 2005, & 2006 LAF/C.R.S., Inc. All rights reserved.
Question answered by Leon A. Frechette. The above photos are a courtesy of Marshalltown.
[ Back to Top ]
---