Lint traps for washing machines

What are washing machine lint filters and how do they work?

There are two basic styles of lint traps. One slips over the end of the washing machine discharge hose, is made of nylon or aluminum mesh, and is held in place with a nylon strap. Unfortunately, the holes in the mesh are too small to be effective as a lint trap. Also, the aluminum mesh has some type of lubricant that gets all over your hands during installation.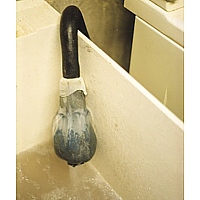 The second type is the Aquarian lint-filter. It is easy to install and helps to prevent soap and lint build-up in the laundry tub. Invented by a plumber, it was designed to allow the machine pump to work without the obstruction caused by other lint traps—no more backpressure. The filter eliminates odor as its solid six chambers allow lint to be separated in order to dry. The filter itself is made of recycled nylon hosiery (which you supply) cut to a 15" length and held in place with two "O" rings. An adapter is included to help fit the system to all washing machines. This is a trouble-free system that really works. You will need to replace the nylon hosiery when it is one-third filled with lint. The Aquarian will be the last lint filter you'll install!
---
UPDATE: 01/01/18
We still have small inventory of the filters but will not be manufacturing once the inventory is depleted. To order, send an email with your completed shipping address, quantity, and I will send you an PayPal invoice with the total cost.

For those who want to send in a check or money order—the total cost including shipping (to the lower 48 states) is $26.45 for one and $47.40 for two. Send to C.R.S., Inc., 1011 E 29th Ave, Spokane, WA 99203-3221. Be sure to include your shipping address.
Copyright © 2000, 2006, & 2018 LAF/C.R.S., Inc. All rights reserved.
Question answered by Leon A. Frechette.
[ Back to Top ]
---