Push drill is a nice addition to collection

I'm interested in locating a vendor for a hand/push drill, similar to the one I own (pictures enclosed). This little guy is so handy for small jobs! My drill works great except that I have ruined the two smallest bits: 5/64 and 2/32, the ones I use the most. I am looking for a new drill since finding bit replacements seems even more difficult. Stanley says the drill was taken out of production when cordless drills came to the market.

Wow! I haven't seen a push drill in a long time. My grandfather, a carpenter in the military, had one similar to yours. Thanks for sending the photos as they helped me to research your question.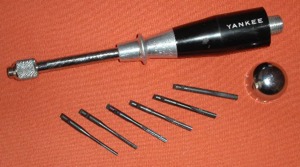 This push drill and others in the series go back a long ways. The original brand was "Yankee," manufactured by North Brothers from 1895 to 1946. In 1946 North Brothers was purchased by Stanley.
Your particular model, No. 45, is a rare find because it was produced in 1947 and is one of the first of the Yankee-style push drills to have a plastic handle. Until 1947 the handles were made of polished aluminum. The seven drill bits, or points, are stored in sectioned slots in the handle. With sizes ranging from 5/64 inch to 11/64 inch in diameter, each has a .168-inch diameter shank size.
You are in luck. Jon Zimmers Antique Tools in Portland, OR, has a chuck adapter that will allow other size drill points to be used, and they may also have drill points for sale separately. Visit www.jonzimmersantiquetools.com or contact Jon at 503-232-1565. He also has other brands of push drills to consider, including the very popular Yankee No. 41Y and an all-aluminum push drill that houses ten drill points.
Ebay has lots of push drill and drill points for sale, including the 41Y and new (remaining) stock of the Stanley Handyman Yankee Push Drill. In Ebay, type "Yankee Push Drills" into the search box. I also found the No. 45 and others at www.antiqnet.com. On this site, select "tools" from the drop-down box and type "Yankee" in the search box.
I got some of my grandfather's tools after his death, but his push drill was not in the collection. Your question inspired me to purchase a new (2001) remaining stock Stanley/Yankee No. 03-043T with ten drill points. Hopefully the information I provided here will bring you closer to finding the drill points or a second push drill to add to your tool collection.
Copyright © 2005 & 2006 LAF/C.R.S., Inc. All rights reserved.
Question answered by Leon A. Frechette. Photograph by Don & Deby Teeguarden
[ Back to Top ]
---