Review Summary
BucketBoss/Pull'R Holdings, LLC
54000
Cell Phone Holster-Duckwear
Priced under $10
Reviewed by Leon A. Frechette
03/06/99 Updated 07/031/06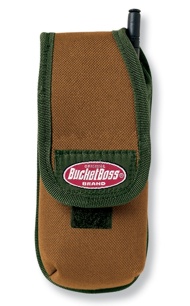 BucketBoss - Cell phone holster 54000
It seems that everyone uses a cell phone today. But how many purchase the protective case to go with their unit? It appears that the cases available are inexpensive and designed to protect from surface scratches only. If you want a case that will deliver more protection, then check out this cell phone holster (shown at right). It's made of a super tough fabric and dense foam padding to help protect your phone from the everyday abuse a professional can put it through out in the field.This holster has a long steel spring clip that secures nicely to a tool belt, pants pocket, or pants/belt.
The cell phone I have isn't designed to work with the 54000 so I tuck the flap inside and use the holster for my 900MHz cordless phone. It works perfectly! Do you suppose the manufacturer knows of this alternative usage? You bet they do!
Visit your local home center—be sure to bring your cell phone or cordless unit with you so you try this holster or other cell or cordless phone holster styles to determine which one is right for you.
I checked with the manufacturer in March 2006 and they tell me that there haven't been any changes to this product since it came on the market.



CLICK LINK BELOW TO PURCHASE FROM AMAZON
Bucket Boss Brand 54000 Cell Phone Holster
Copyright © 03/06/99 & 07/31/2006 LAF/C.R.S., Inc. All rights reserved.
Looking for home improvement Q&As? Click here!
[ Back to Top ]
---